This post has been in the works for a LONG time! I have a WordPress website, so I'm able to start a draft so I can remember something that I eventually want to write about, but sometimes "eventually" is a LONG time from then. In the case of this "In My Camera Bag" post, it's been about a year and a half. (eek!)
But that's actually a good thing because it gives me a chance to pick up more gear (because really, who doesn't need more camera stuff?!) and get über familiar with the things that I use on a regular basis.
I've decided to break this down into two separate blog posts: what's in my camera bag that I use all the time (for normal sessions and going about town), and what lands in my camera bag when I go to weddings (which is usually everything but the kitchen sink!).
In My Camera Bag
Everyday Use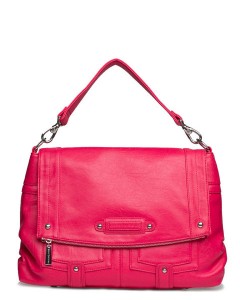 Kelly Moore, Songbird Bag – I've already written a whole blog post about how awesome this bag is and how much I love it (especially the fact that it's super girly and pink!).
But another thing I really like that it's not gigantic, and looks more like a purse than anything else. If I'm going to be carting around almost $7K in equipment to every session, I don't want to be screaming it to everyone that passes by.
Plus, it's more girly and pretty… why wouldn't you choose a pretty camera bag when you have the option to?! 😉
This is my newest purchase and I am in LOVE with this amazing camera!
I'm a big believer in the idea that better gear does NOT make a better photographer. But darn it all if it doesn't help the end product that you are giving to clients! I was really hesitant to purchase this upgrade to the Mark II because my current camera was working fine, and I couldn't see the need for upgrading when I didn't have to. But I will tell you, the difference between the two cameras is insane!!! I couldn't have been happier to make the switch and have that much more awesomeness available to me! If I had to pick one thing that I loved the most, it would definitely be the amazing low-light capabilities!
Not gonna lie, I really hemmed and hawed over making this purchase… for a long time! I was like "I don't really "need" the 1.2 version, I can be happy with the 1.4…
Not so much.
What I was really struggling with was the price tag.
It wasn't that I was unsure about the product, or unsure about whether I would be able to use this lens… it was literally the fact that I was simply balking at paying the price.
Long story even longer, I finally ended up getting this lens last summer and OHMYGOD!!!
Seriously… this lens changed my life!!!
It's amazing for portraits, and gives you the most creamy, buttery bokeh in your images! Plus, since it's a prime lens, it is tack sharp, and there is a noticeable difference from a zoom lens.
This is the other lens that is constantly in my camera bag, and before I got the 85mm, this was my workhorse when it came to picture taking. This zoom lens is great for when you need to capture lots of action (great for family photos where you've got little ones running around). It's got a good range for getting in close or zooming out to capture more of the scene. I tend to be really good about getting in nice and close to my couples when I photograph (especially when I'm using the 85!).
But what's in my other bag?!
Stay tuned, I'll post the companion article to this in the next week so you can see all the gear I lug around to weddings!