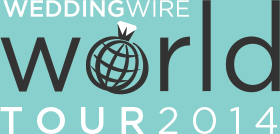 Yesterday I found myself DC bound with Crystal (from Cherry Blossom Weddings) so that we, along with hundreds of other wedding professionals, could attend the Wedding Wire World Conference at the Gaylord National Resort & Convention Center at National Harbor in MD (which is architecturally stunning, by the way!).
I was fortunate enough to attend this conference last year and in addition to building relationships and learning from industry giants in the wedding world, it was awesome to just get together with people who just "get it". Because, lets face it, running your own business is hard! This conference is unique in the fact that they share the latest in tech, social media, and the latest wedding trends in order to help us as small business stay at the top of our game! Because if you're not moving forward, then you're moving backwards. And in todays rapidly changing world, it's important to know what the latest and greatest trends are (I've still got my fingers crossed for Steampunk to go viral, but alas… that dream might have to wait 😉 ).
I can't wait to share with you all the awesome things I learn (in a later blog post), but also to implement some awesome things into Fresh Look Photography in order to make this process more awesome for everyone involved!