Between getting ready, making sure all the vendors are in the right place, and ensuring that your ceremony starts on time; you've got a lot to think about on your wedding day! However, when it comes to pictures, it's worth crowding out some of those other things in your brain to make sure you've got an amazing set of images after the wedding day! Here are 10 tips for gorgeous wedding photos! These will not only give you a sense of confidence, but also make sure that you get the photos you're dreaming of!
10 Tips for Gorgeous Wedding Photos
1 – Know Your Style
Light, bright and romantic? Dark, moody and mysterious? Knowing the style of photography you like is imperative to finding a photographer who you'll love! And whether your photographer gives lots of direction or is merely a fly on the wall goes a long way towards the end results of the pictures!
2 – Stand Up Straight!
Just the simple act of standing tall and pushing your shoulders back will elongate your body and give you the appearance of being leaner and more confidant. If you are taking pictures with someone who is shorter than you, always make sure to stand straight and tall, otherwise you will look hunched over and awkward in the pictures.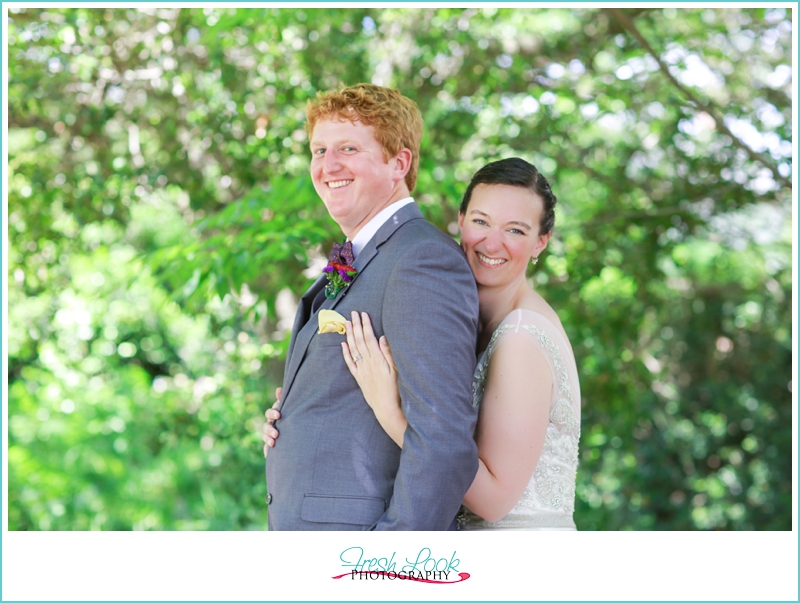 3 – Mind the Bouquet
Whenever I shoot a wedding, I always make sure to tell the bridesmaids to be mindful of their flowers! We don't hold it up high (covering that beautiful bodice), or super low (we're not lazy!), but instead holding it at your belly button for the perfect look!
4 – Arm Yourself!
When you hold your arm flat against your side, it can make them look larger than they really are (nobody likes flabby chicken wings!). Make sure you hold your arm just slightly away from your body and it'll do wonders and give you an insta-slim arm! You can also pop your hand on your hip for that gorgeous slender arm we all want (no workout needed!).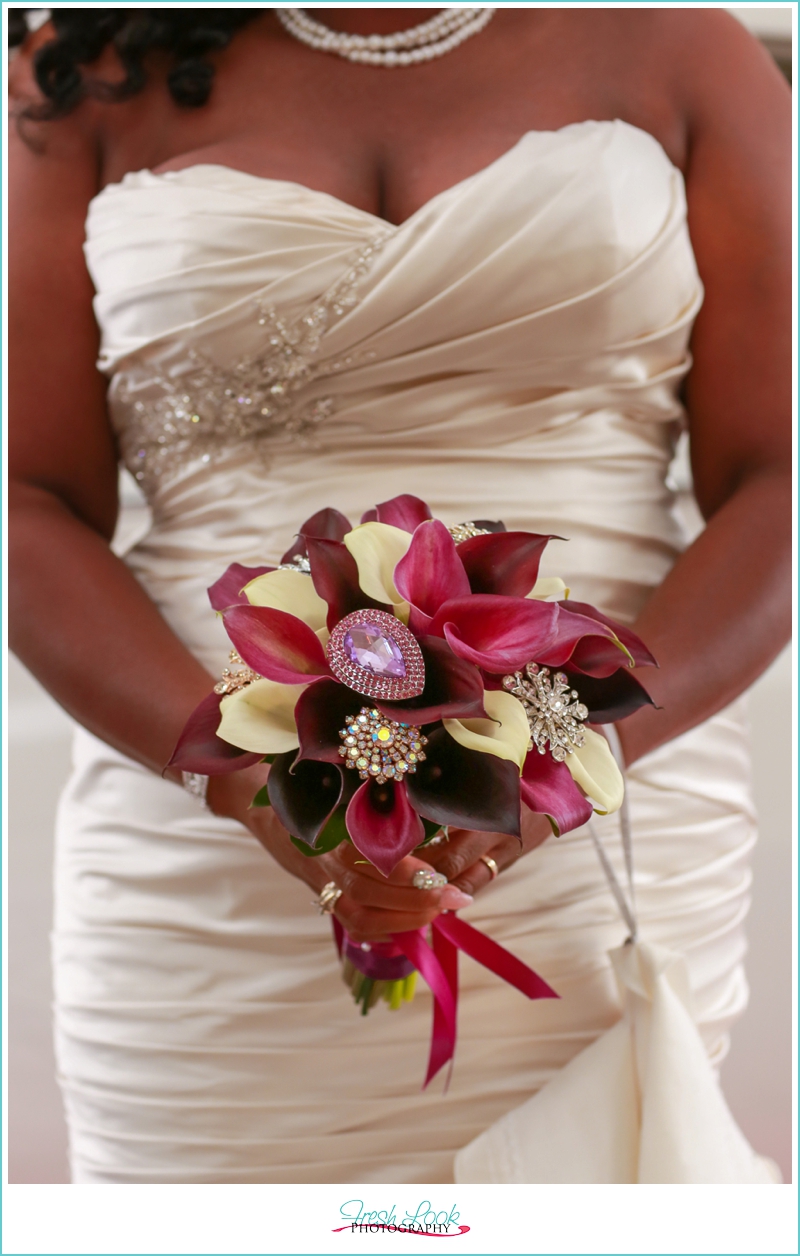 5 – What Do I Do With My Hands?!
This is the question that everyone wants to know the answer to! The key is to make sure that you're not doing a weird, claw-like thing with your hands and keep them looking elegant and graceful. Give your hands something to do: gently touch your necklace, hold onto your bouquet, gather your dress in one hand, hold onto the lapel of your husband's jacket… the possibilities are endless!
6 – Practice Makes Perfect
You wanna look your best, so make sure to practice in front of the mirror! Check out what your different facial expressions look like, do you have a better side, which one of your smiles is the perfect one for all those wedding pictures?!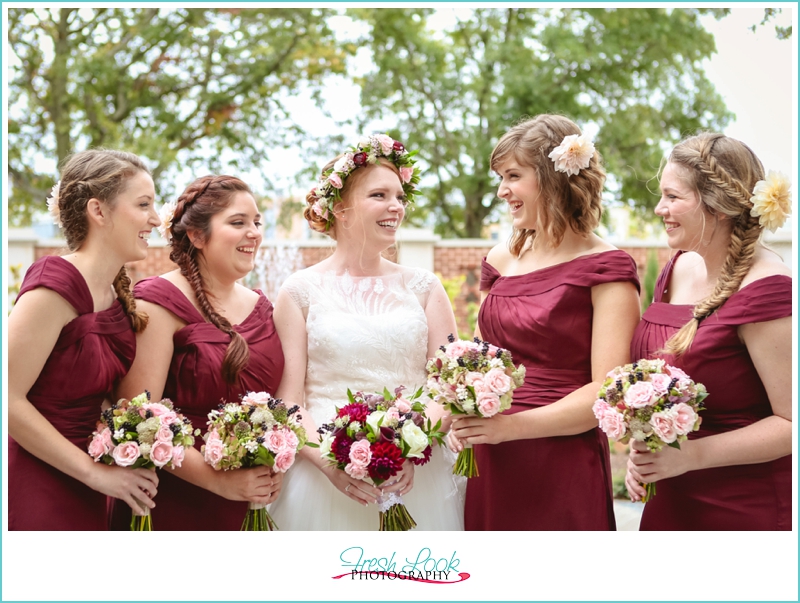 7 – Location is Everything
Make sure that your photographer has a chance to scope out special spots for the photos of just the two of you. Keep in mind that sometimes the best locations will probably end up being a bit removed from all the wedding festivities.
8 – Relax your Face
Depending on how cooperative your bridal party is, wedding photos can sometimes feel like they're taking forever (especially since you've got to keep a perma-smile going!). If you need a time out to relax your face, close your eyes for a minute, or sit down, don't hesitate to let your photographer know. If you can power through the photos, just be thinking about all those delicious cocktails at the reception!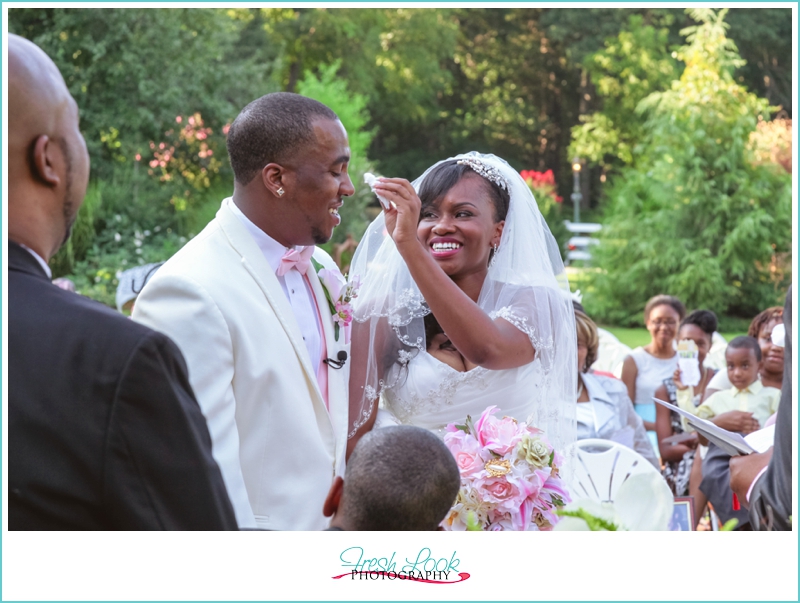 9 – Fake It…
Laughter, that is! One of the easiest ways to get a genuine smile is to laugh, and to do that, let out a forced "ha ha ha". You will feel ridiculous, but it will make everyone else around you crack up, and you won't be able to help but smile back in return. Try it, I promise you can't help but laugh (for real!).
10 – What Camera?!
I know it's gonna be hard, but if you can forget about the fact that you've got cameras following you around all day like paparazzi, it will really help eliminate that "deer in the headlights" most of us get when a camera is pointed in our direction! Trust that you hired an amazing photographer and they are going to take photos that present you as the best version of yourself!