We're getting ready to enter a new month, and with the onset of warmer weather (hopefully!) you will join us as we get out of our photography rut and start taking a photo a day for the April photo challenge! It doesn't matter whether you're shooting with a film camera, cell phone, or pro-DSLR.  There's a quote that says "the best camera is the one you have with you" so use what you have available!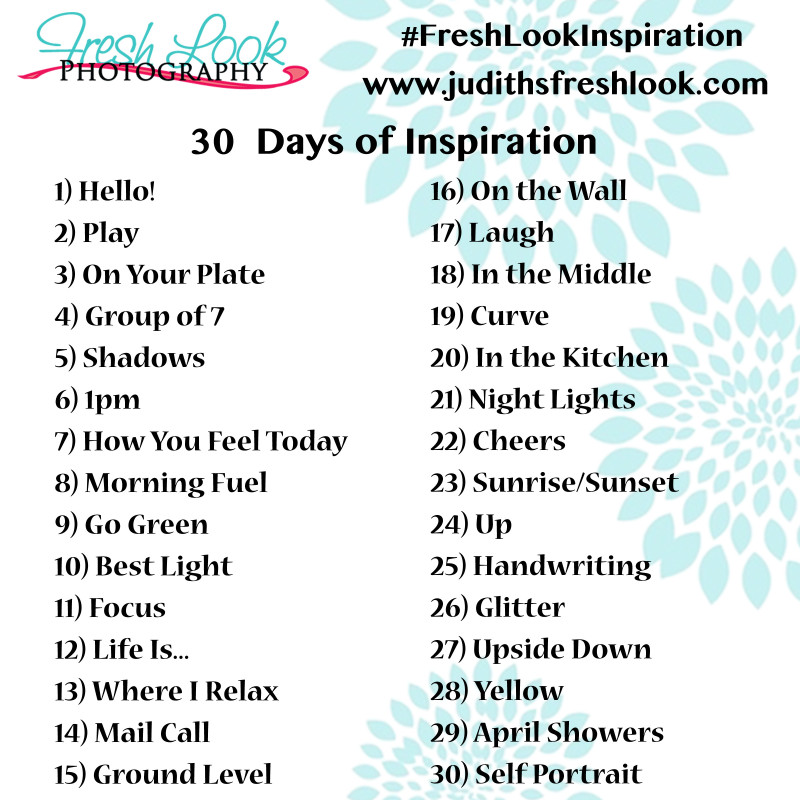 The Basics
If you're looking for something to give your inspiration a kick start, doing a photo a day project could be just what the doctor ordered. For the month of April, there will be a different topic chosen for each day. You get to interpret that however you see fit and take a picture (yes, every day). Then upload it to your blog, Facebook album, Instagram, or Twitter and share the link with all of us so we can see all the photo gorgeousness that everyone has been up to! (also use #FreshLookInspiration)
We also created an awesome Facebook Group to share your images, and we'd love to have you join it!!
Photo A Day
Here's a handy breakdown of all the pictures we'll be taking throughout the month:
1) Hello!
2) Play
3) On Your Plate
4) Group of 7
5) Shadows
6) 1pm
7) How You Feel Today
8) Morning Fuel
9) Go Green
10) Best Light
11) Focus
12) Life Is…
13) Where I Relax
14) Mail Call
15) Ground Level
16) On the Wall
17) Laugh
18) In the Middle
19) Curve
20) In the Kitchen
21) Night Lights
22) Cheers
23) Sunrise/Sunset
24) Up
25) Handwriting
26) Glitter
27) Upside Down
28) Yellow
29) April Showers
30) Self Portrait