I've got an announcement to make.
This was unexpected, and not something I was looking for, but I've got to let you know about a new addition to the family: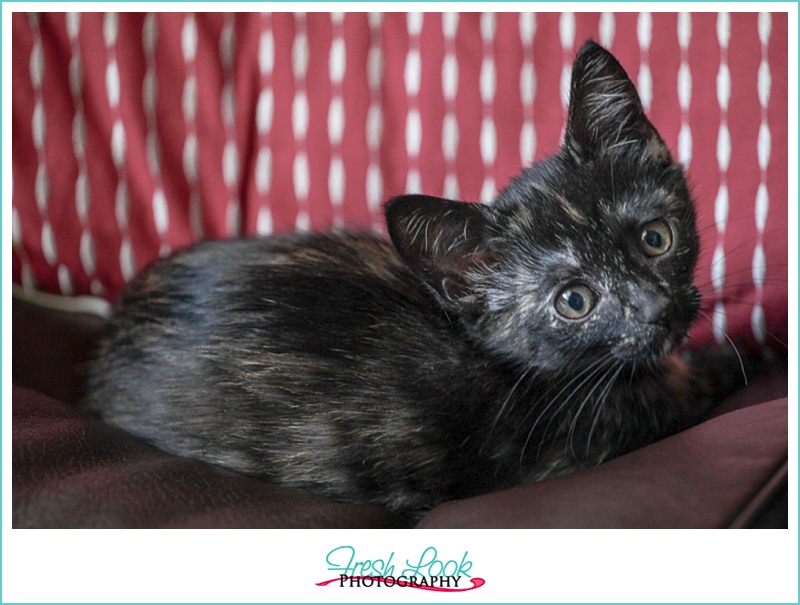 Introducing Cupcake!
She was born on June 19th of this year, and (rather unexpectedly) became part of our little family on August 17th. We've had her a few weeks, but it wasn't until a few days ago that she had a real name. When Cupcake came into our lives, I had no idea what to call her. I wanted to name her after something camera or coffee related, but nothing seemed to stick.
It wasn't until I was talking to a friend about eating cheesecake, that something clicked in my brain and I realized that I wanted to name her Cupcake!
I've been so happy to have her because she is such a little cuddle bug! When she's not running around like a crazy kitty, that is 😉 But it's nice because I'll be sitting here at my computer and she will come jump up and cuddle on my lap, purring until she falls asleep. I forgot how nice it is to have a pet to keep you company!
Wesley and Mara are over the moon to have Cupcake here! I was a little worried that they would be too rough with her, but they have both been very loving and gentle with her. I know that she will be an awesome pet for the three of us, and couldn't be happier with the new addition to the family.