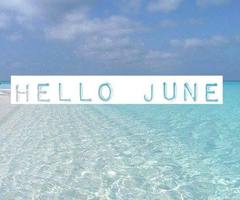 It's finally June… a month that I thought wouldn't be here for a long time. I am definitely looking forward to a new month and working on my June goals list, but I'm also dreading the start of the new month because we are moving in 19 days (eek!!!). Let me just say that (on so many levels) I am NOT ready for this move!!! Don't get me wrong, I definitely WANT to move because we are currently busting out of the house we live in now! But I will be sad to leave my current house after 5 1/2 years and am not looking forward to all the loose ends we have to tie up in order to move (like all the things that still need to be packed!).
Here are a few cool things to look forward to in June!
Fathers Day – have you thought about what to get dear old dad yet (no, he doesn't need ANOTHER tie!)
National Donut Day – Krispy Kreme here we come!!!

June Goals List
Personal Goals
MOVE! I think that's really the only thing I can accomplish right now.
Keep my sanity… yup. I think this one bears mentioning 😉
30 Day Photo Challenge – I'm hosting my first one and would LOVE for you to join us in this fun picture taking event 🙂
Business Goals
Rock out a few weddings for some fabulous June brides (and grooms of course!)
Get all business paperwork/insurance/licensing transferred over to the new place.
I know that June is always a little crazy with moves and kids finishing school, but I hope you're able to take some time to accomplish some of your goals for the month!