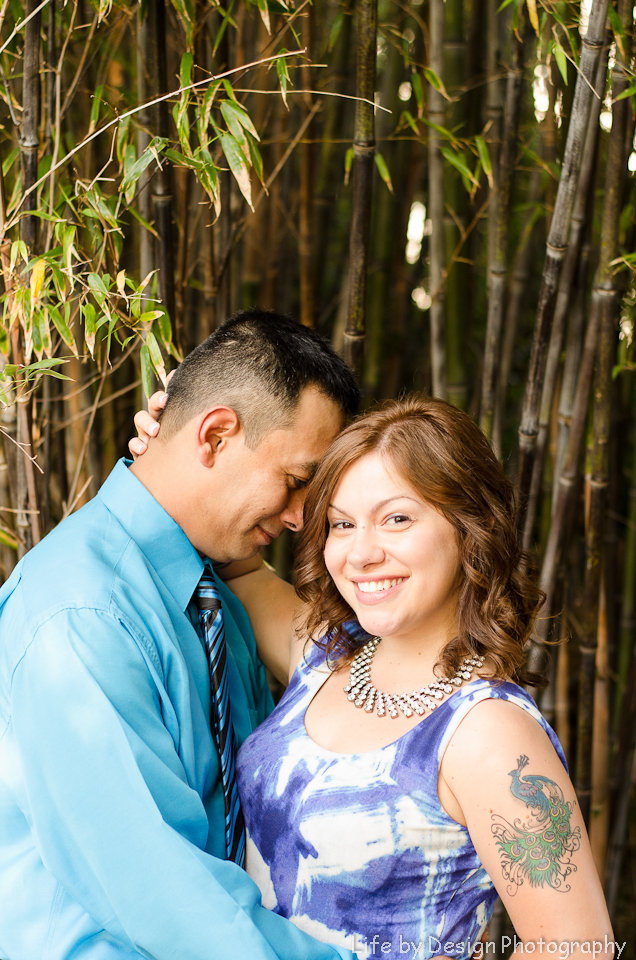 Lets play a game: never did I ever think that I would be blogging about a surprise engagement photo shoot that my boyfriend planned! (I know, right?!)
But here we are.
Eric completely floored me by proposing to me last Monday (5/12/14) at – what was supposed to be – a photo shoot trade with Rich and Meghan (of Life by Design Photography). It's funny because on the way to the photo shoot, I was telling Eric that I was happy that Meghan would be taking our pictures first, that way I wouldn't be thinking about anything but taking good pictures for them. Ha ha… joke was on me 😉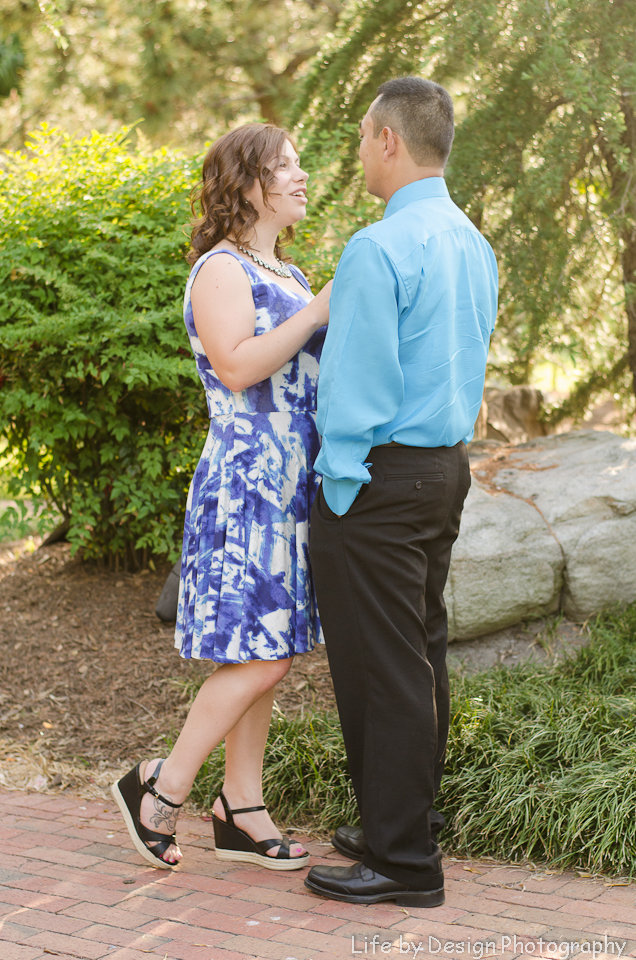 When we first started taking pictures, Eric seemed normal enough, I just noticed that he was walking around a LOT and didn't seem satisfied with any particular location. The photographer in me said, "this place has good lighting, lets just start here and we can go other places later."
Little did I know that he was looking for the perfect place to propose to me!
When it happened, he caught me COMPLETELY off guard!
I had an idea that it might be happening soon, but I was not expecting 30 seconds into the photo shoot!
Here's how it went down: we started taking pictures, I had my "camera face" on. I remember telling Eric how happy I was that we were doing this session. Then he says something about him too, and launches into how he wished he had a chance to talk to my dad earlier that day.
Now this is me (still with my camera face and smile pasted on) "why are you bringing that up now? We're trying to take pictures!"
Then he talks about how much we love each other and how much I mean to him and how he doesn't want me to ever not be in his life, then he drops to one knee and pulls out a ring!
Let me just tell you that I freaked out and definitely checked out for about 20 seconds!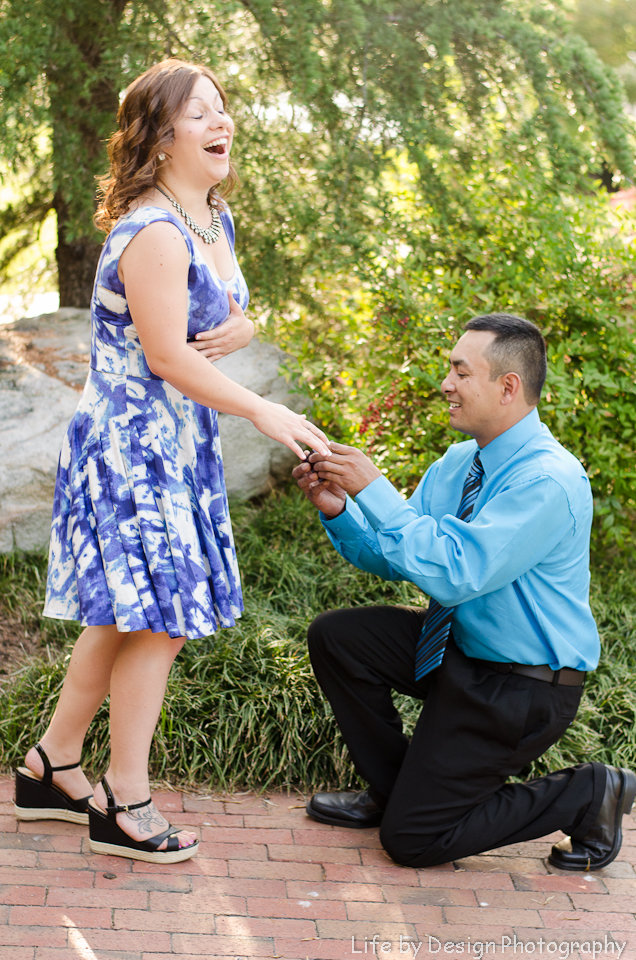 It's really hard to surprise me, but Eric definitely got me this time!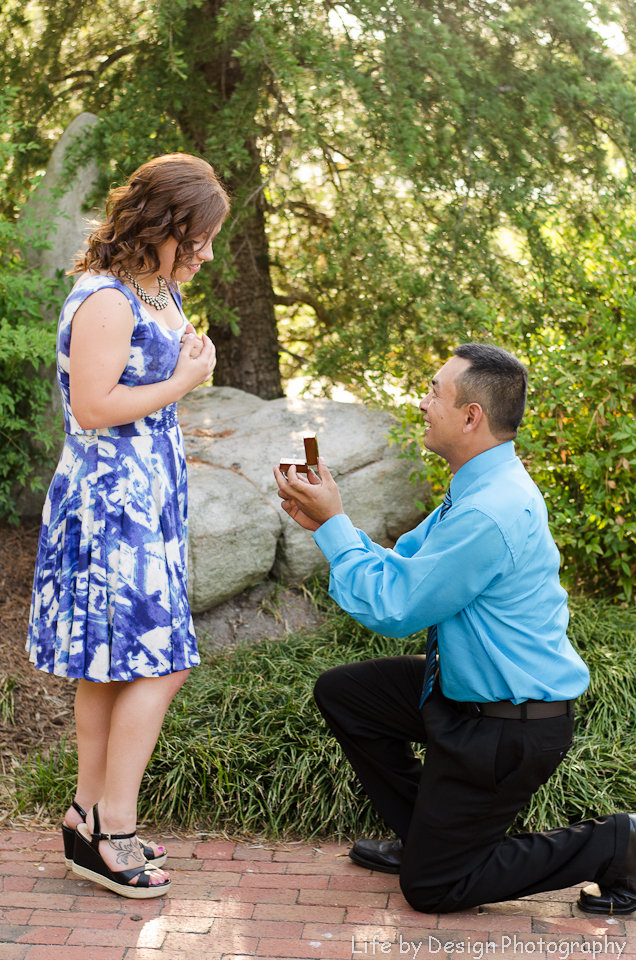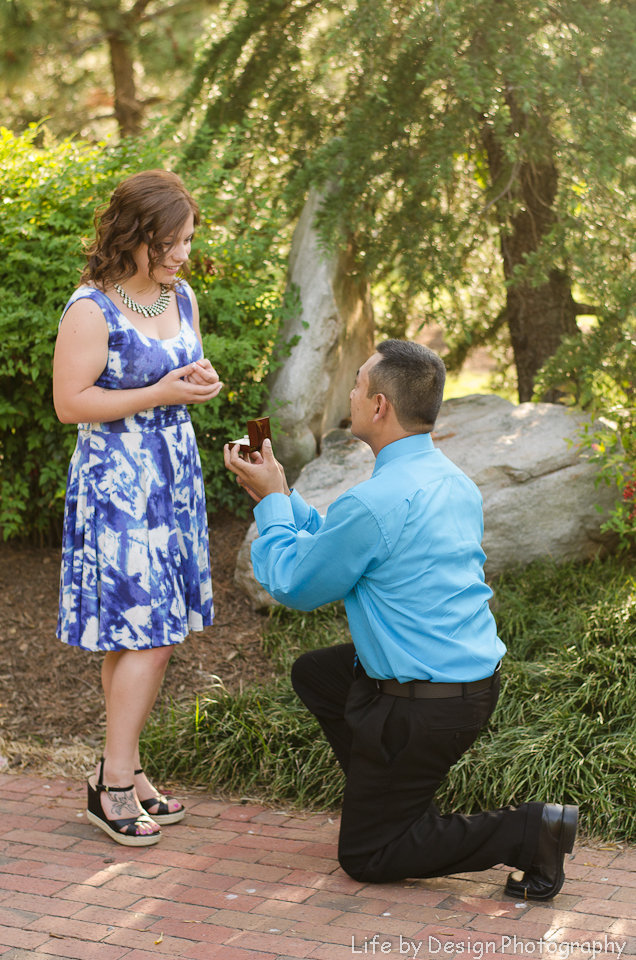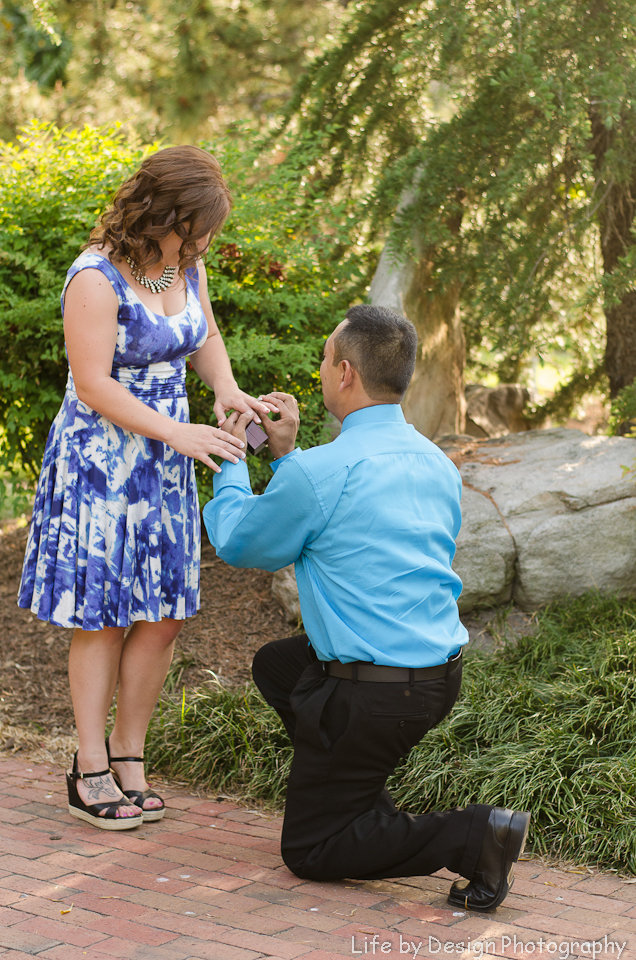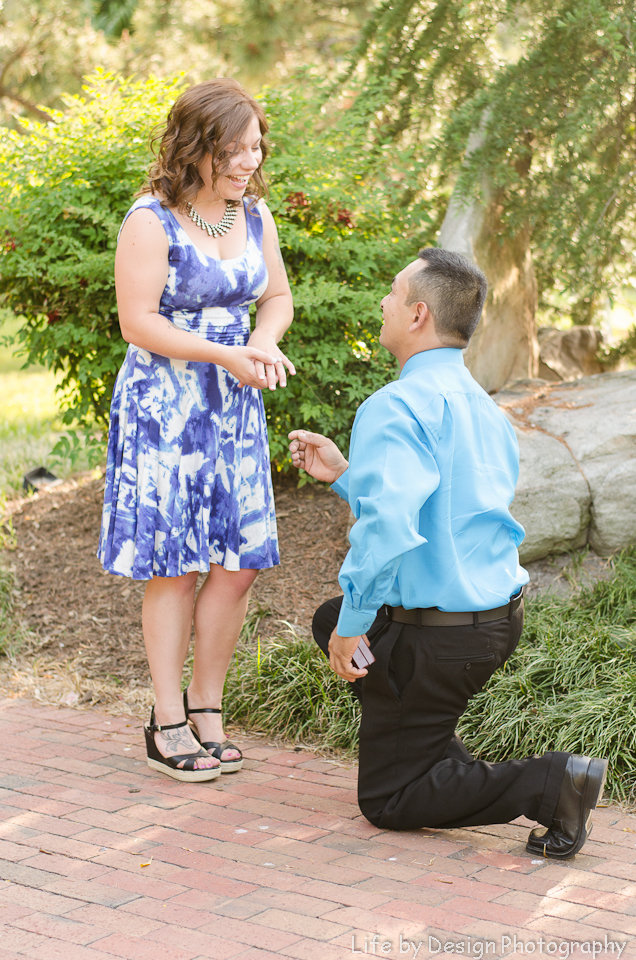 Eric said that he had to ask me if I would marry him a few times, but when I finally came back to my senses, I finally managed to squeak out a "yes" and agree to be his wife!!!
And for anyone that knows me, it is VERY hard to leave me speechless 😉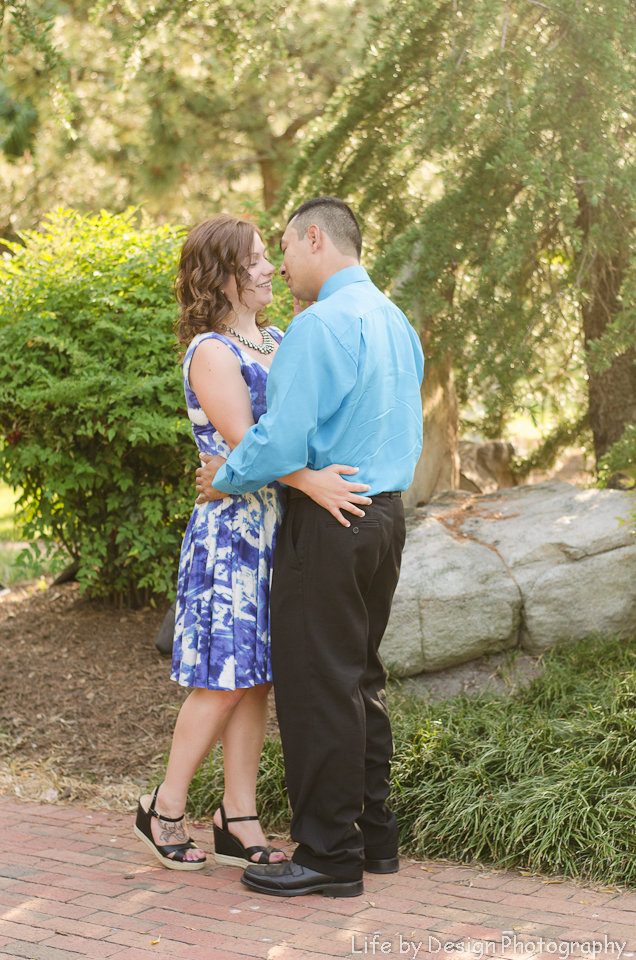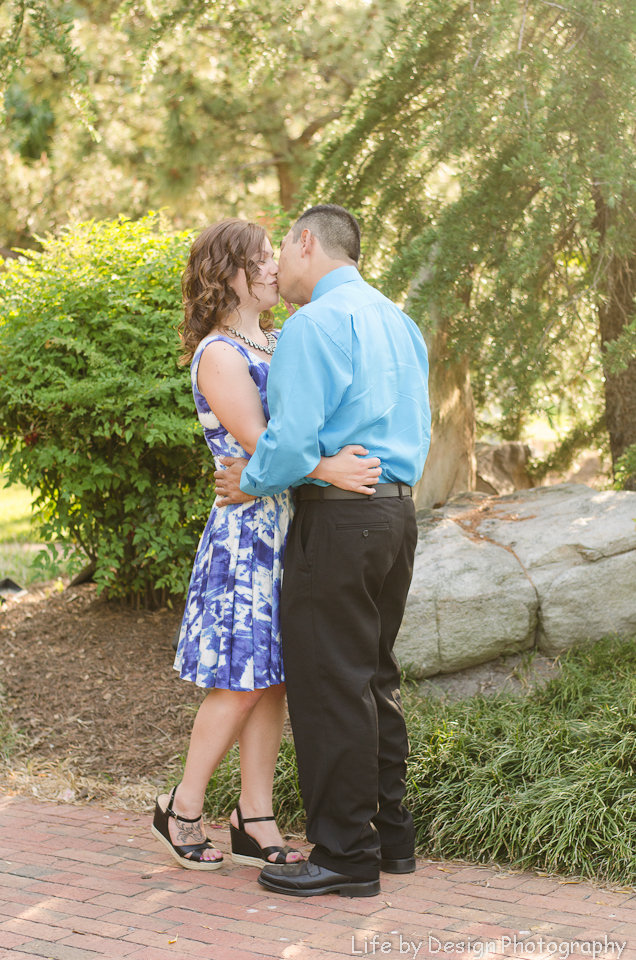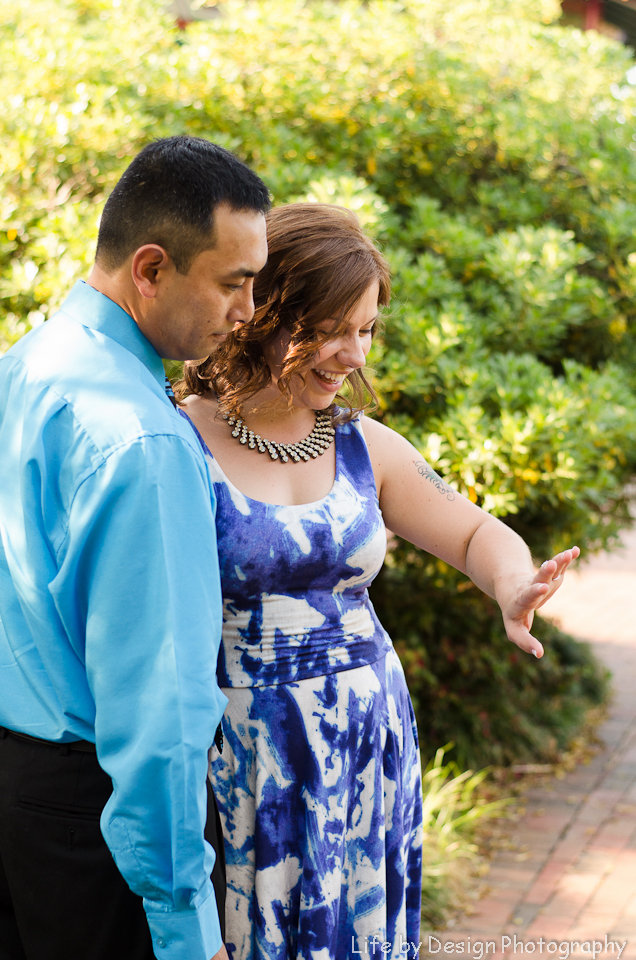 Admiring the new bling!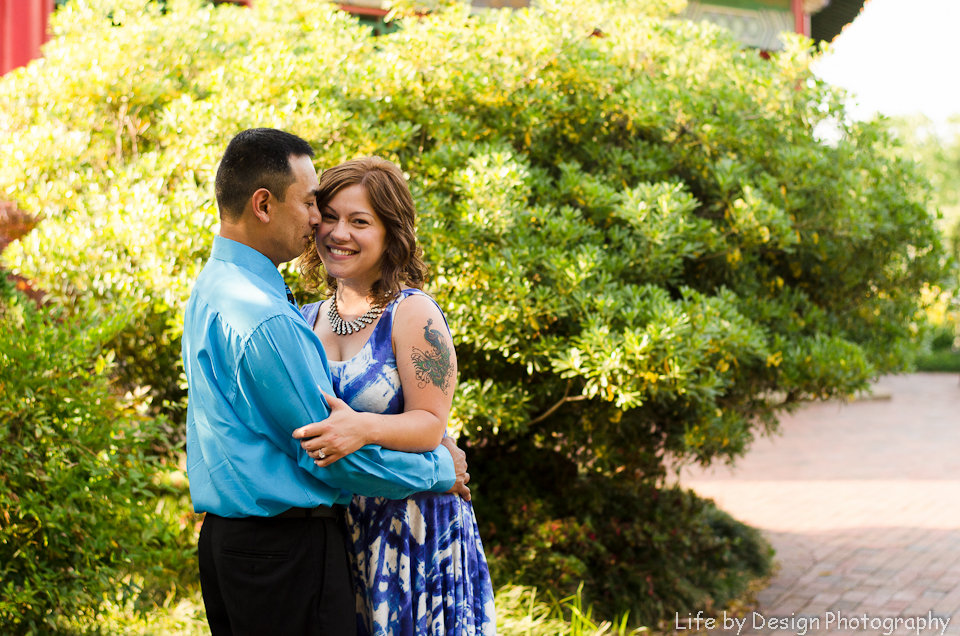 I am not a super emotional person, but I was so overwhelmed that I almost started crying! But Eric said "don't cry, you'll mess up your makeup and ruin the pictures", I love that he knows me so well! Plus it made me laugh!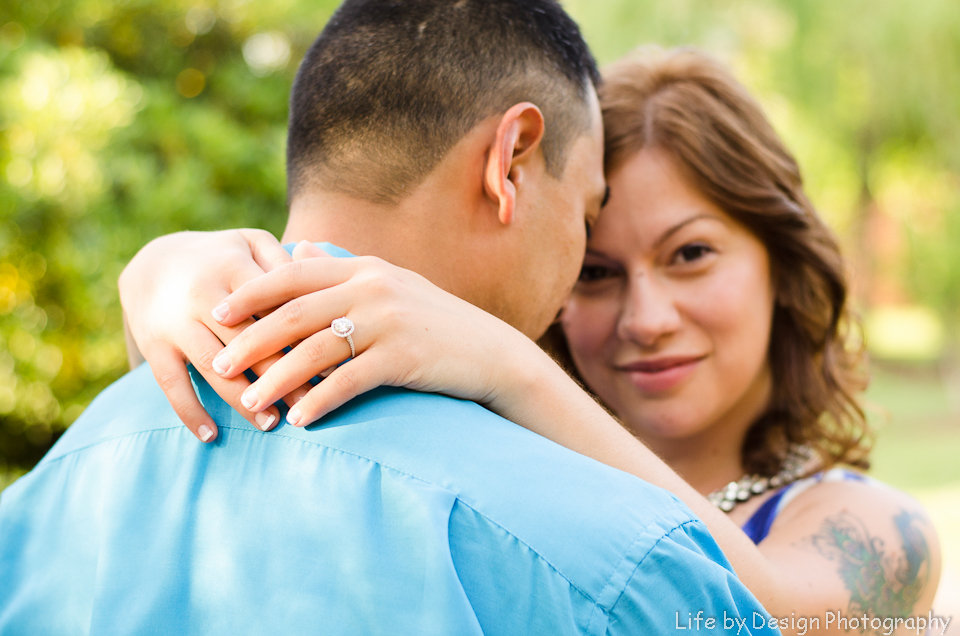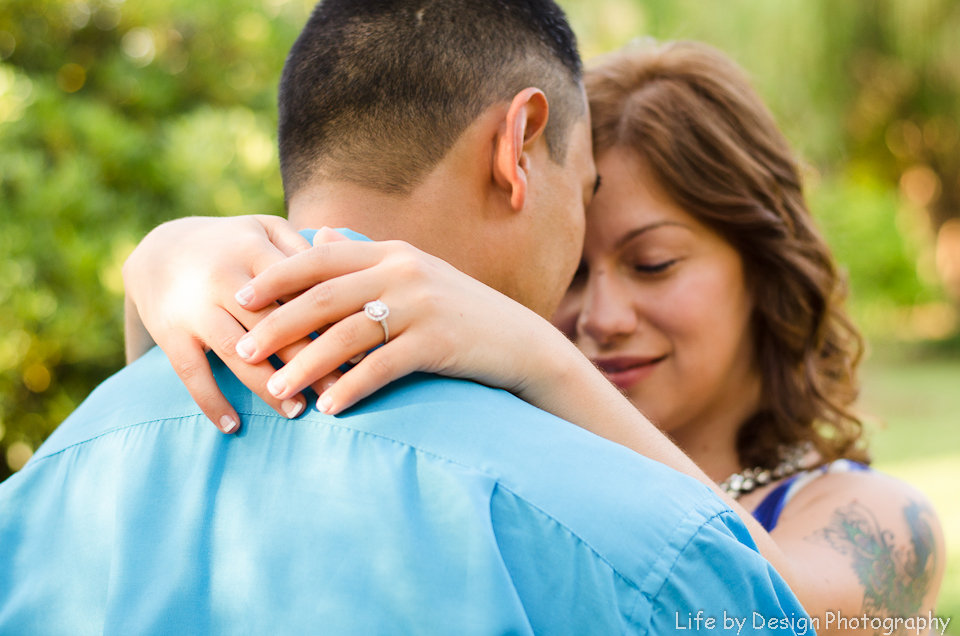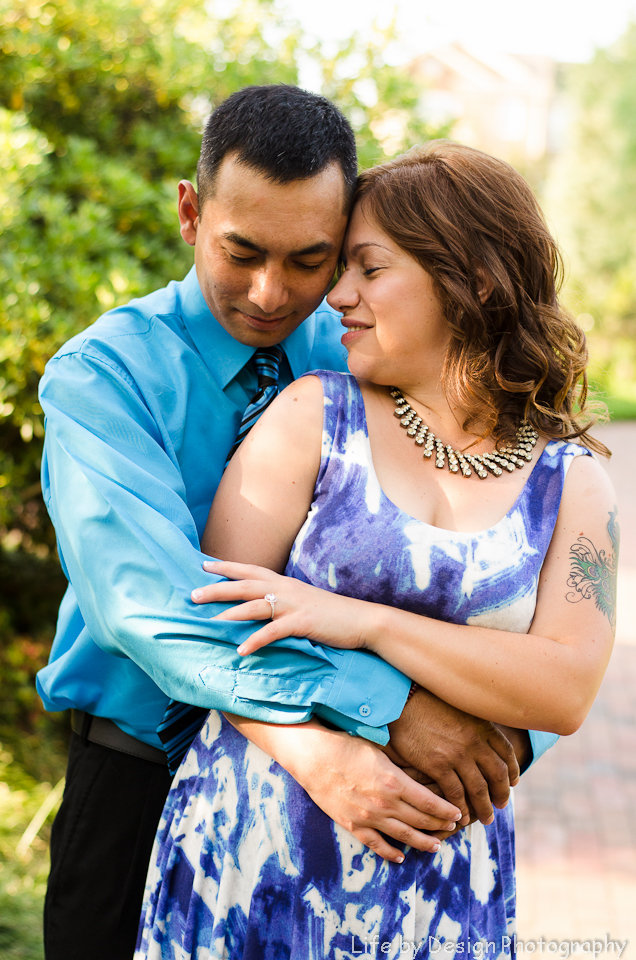 Oh my gosh, I am in LOVE with how romantic this picture is!!!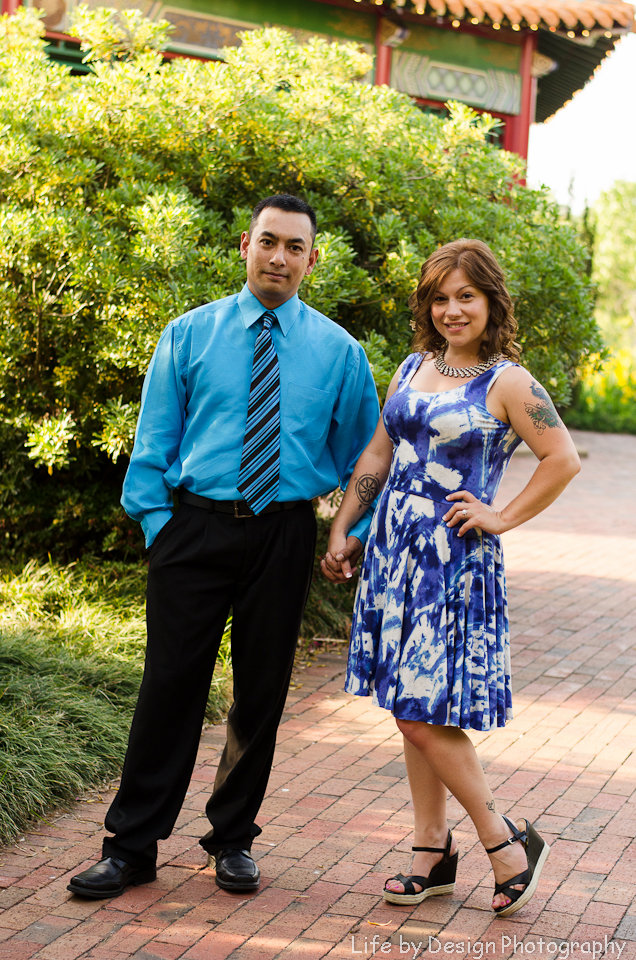 Here's the surprise engagement photo shoot story from Eric's perspective:
"When, where, and how? Those were the 3 questions that I thought about every day when I decided that I wanted to marry you. There were several different scenarios I had thought of, my proposal to you at the Pagoda Gardens was the last.
I chose to not just because of the convenience, but I felt that I was ready and you were ready. The timing, I thought, was perfect because it was much sooner than the others.
Was I nervous? Of course I was.
Not in fear of you saying no, but the overall commitment of being married.
You are truly the one for me.
I messaged Meghan ahead of time to ask if she was okay turning it into an engagement shoot, and she was more than happy to!
The plan was set!
Executing it was a little harder than I thought.
I felt like I walked the garden more than a few times trying to find a spot.
Finally I got on one knee and asked for your hand!
The look on your face was shock, amazed, and happy all in one!
The rest you know, I love you."
~ Eric 
Probably one of my favorite pictures from the whole night!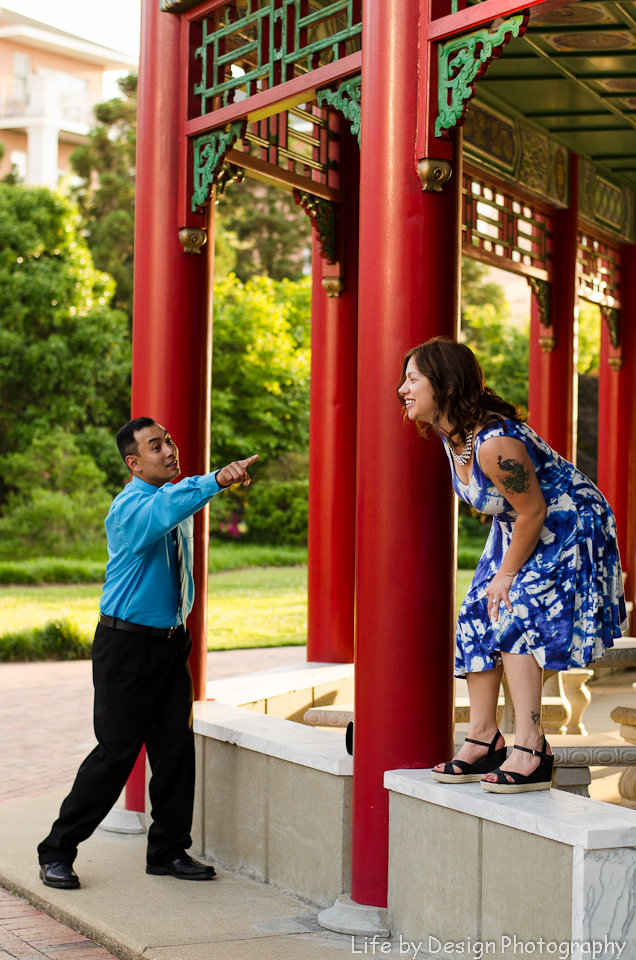 This is so Eric and I! We are such goofballs and LOVE to laugh with each other 😀
Wow! What a memorable night!!!
I was on cloud nine for the rest of the evening, and am still reveling in the fact that we did a surprise engagement photo shoot! This was one of the best surprises, and I am SO excited to have such an amazing man by my side!!! Eric compliments me in so many ways, and truly makes me want to be a better person, always makes me laugh, and truly puts me and our family above everything else.
I could definitely disgust you with how much we love each other (and it is a LOT!), but I'll leave it here 😉
Meghan, thank you SO MUCH! I can never repay the awesome favor you did for us, and I look forward to lots of coffee dates and backyard barbecues during the summer!
Eric, thank you! You are wonderful and I love you.
I really wanted to write something else, but that pretty much sums it up.
For everyone else: We are looking forward to a long engagement, and plan on doing a destination wedding in Hawaii, sometime in January of 2016, we'd love to have you come 😀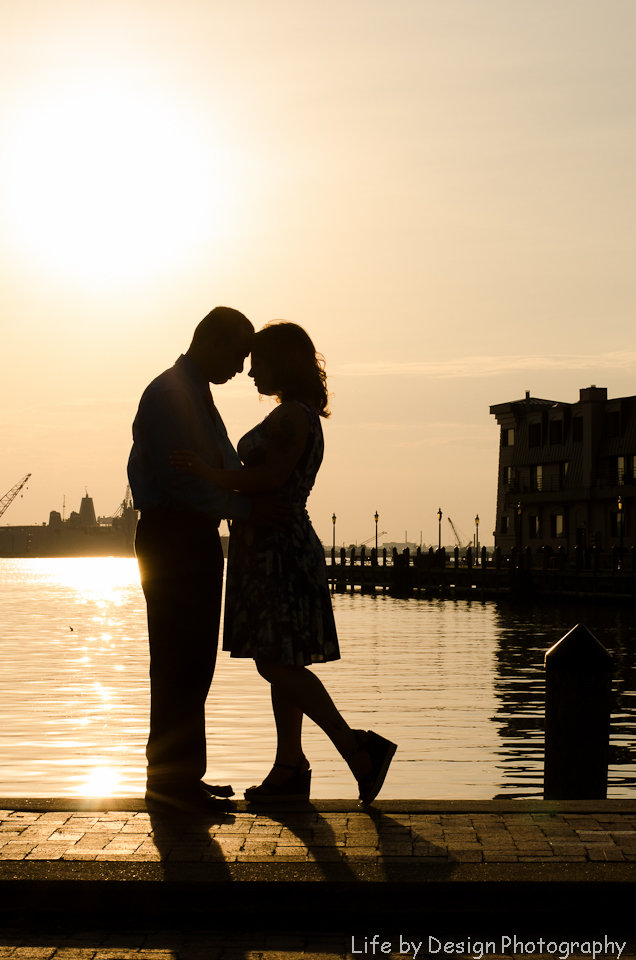 All images courtesy of Meghan Fuss | Life By Design Photography