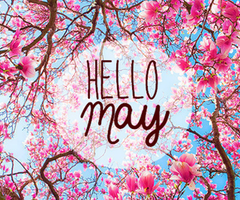 Hooray! It is finally a new month, and that means that I can share with you the May goals list! Between the kickoff of wedding season, classes starting at Virginia MOCA and the ever present preparations to move, there was a lot going on in the month of April, and May promises to be no different! I've got lots more amazing wedding to photograph, and a house to pack up in preparation for moving next month (eek! its' happening next month!!!).
Here are some cool things that we can look forward to in May:
National Bike Month
National Military Appreciation Month
Drinking Water Month (and I think this is something we can all stand to do more of!)
Cinco de Mayo – who's up to go get some margaritas?!

May Goals List
Personal Goals
 In the interest of getting rid of more stuff, I'm going to keep aiming to pack one box of stuff each day. Maybe now that it's May I might be able to pack away the winter clothes 😉
Finish Pillars of the Earth! I've been reading it since March and the story is amazing, but I'm ready to be done with the almost 900 page book!
Reconnect with friends, as crazy as this month already feels, I want to make time for the important people in my life.
Business Goals
Keep up my week after the wedding turnaround time for couples to get their wedding pictures!
Write a schedule for social media so I'm consistently posting to all avenues.
Come up with a unique location for a special Beloved anniversary session later this month.
Start thinking about two "photography gives back" events to host this summer.
So What Are Your Goals?
What are you going to be planning for the month of May? I'm a big believer in writing things out so you can see them and make things happen! So make a list and get out there to accomplish your May goals list!!!