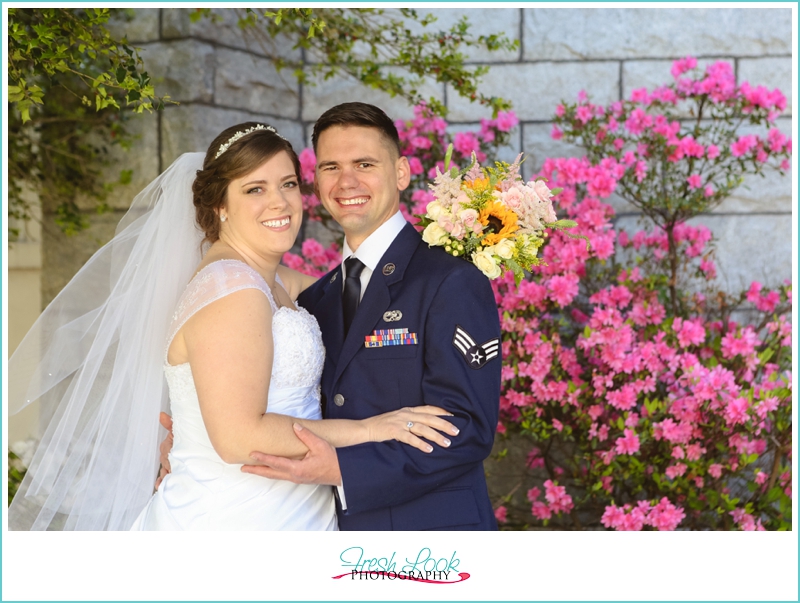 Traditionally May is wedding month, the weather is getting warmer, everything is greener, and the promise of new life just makes you want to fall in love! For their historic Portsmouth wedding last month, Sarah and Nick had a very traditional ceremony and then partied it up with family and friends at the Drydock Club on base.
Historic Portsmouth Wedding
On the wedding day, it is usually a flurry of activity: bridesmaids rushing around with a curling iron, groomsmen asking who remembers how to tie a double Windsor, and the bride and groom trying to hold onto some semblance of sanity as they prepare for the big event. However, Sarah was absolutely the model of calm, cool and collected.
Sitting in her parents home getting her hair styled, she joked with her brother and reminded her mom about what needed to go to the church. When the stylist asked if she was nervous, she smiled and said that she was just ready to get married to Nick!
Meanwhile, at the church, Nick was nothing but excited as well, anxiously awaiting his bride! They chose to do a first look (I totally think that every couple should do this!), and the expression on his face when he first saw Sarah was priceless!!! What a great excuse to love on your (almost) spouse 🙂
Looking back on the wedding day, there are always things that you could/would have done differently, but at the end of the day, as long as the two of you are married, I'd say it was a successful endeavor!
After the wedding at St Pauls Catholic Church, guests made the quick trip to the reception on Scotts Center Annex and toasted the new bride and groom on their new life together, wishing them nothing but joy and happiness (just like Eric and I wish for them!).
VENDORS
Ceremony Venue – St Pauls Catholic Church
Reception Venue & Catering – Drydock Club
Brides Gown & Bridesmaid Dresses – David's Bridal
Groom & Groomsmen Suits – Men's Wearhouse
Hairstylist – Natural Images Salon
Florist – Norfolk Florist