When you start out in your photography journey, everyone wants to put a label on you to help categorize you. Are you an enthusiast, a hobbyist, a pro… or the dreaded: "mom with a camera"? I remember when I started on my photography journey, I would cringe every time I heard this last label and I desperately wanted to be more than "mom with a camera" because that comes with certain pre-conceived notions about the person holding the camera: that you're not as professional, or as devoted to your craft and bettering your images. 
I'd love to help you on your photographic journey by pointing you towards some awesome resources that will (hopefully) help take you to the next level!
Books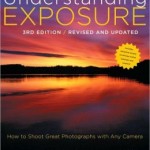 Understanding Exposure 3rd Edition, Bryan Peterson
This book was fundamental in helping me get out of Auto and grasp concepts such as the exposure triangle (something I really struggled with)! Plus it's what I assign reading from to my students in the intro classes I teach.
Within the Frame: The Journey of Photographic Vision, David duChemin
This book focuses on finding and expressing your photographic vision, specifically using people, places, and cultures. duChemin uses vibrant colors and unposed moments to tell real, genuine stories of the people and places he visits.
The Minimalist Photographer, Steve Johnson
It can be easy to get overwhelmed by all of the information and gear available to us. Johnson addresses this issue by promoting a minimalist approach to the field in all aspects pertaining to buying gear, simplifying workflow, and uncluttering the composition of images. He does this by emphasizing the need to remove the non-essential from the essential in both our images and our approach to photography

Websites (and Blogs)
Digital Photography School
This is one of the most comprehensive sites on photography information I've found. Literally any subject you could want to know about, you'll find an article on here. Just a fair warning, you will get lost in this site for hours, so be prepared to set some time aside 😉
Ken Rockwell
A great resource for camera/gear reviews and tech know-how. Ken really cuts through the BS to give you only the most pertinent information about the product that will actually help you as a consumer out!
Psychology for Photographers
This site offers fabulous insight on how to create a better experience for our clients and ourselves. The author has a Masters Degree in clinical psychology as well as running her own photography business. The way she is able to bring together the two fields of knowledge is just incredible, and reading her blog regularly will improve your understanding of your clients dramatically.

The Photo Life
An amazing educational resource for professional photographers (and those looking to go pro!). Put out by Pictage, this website focuses on useful business tips and tricks for photographers to help you succeed in shooting portraits and weddings.
Mentoring Sessions
Most photographers are self taught, and if you're lucky, you've been able to attend a class or workshop. But if you really want to be more than "mom with a camera", you are going to need to kick things up a notch and find a way to set yourself apart from the competition. That's why I offer one on one mentoring sessions, I really want to see YOU succeed! Honest!
In these one hour sessions we can go over any questions/concerns you have, as well as looking over your portfolio and chatting about life as a photographer. For more information on mentoring sessions with Fresh Look Photography, feel free to message me at juditshfreshlook@gmail.com and we will get the ball rolling!