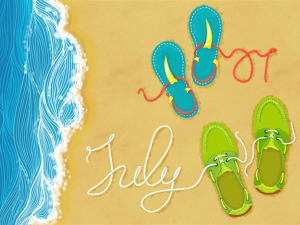 Can I just say: it feels really good to have made it through the month of June! Between moving into a new house (what an undertaking!), rocking out the spring wedding season (I've photographed 12 and counting!), and doing the 30 Day Photo Challenge… I've never been so happy to write the new monthly July goals list!
Don't get me wrong, June was amazing and there were lots of positive things that happened, but I also think that I'll have nightmares about paint rollers and brown moving boxes for quite a while after all that's happened 😉
With warmer days and longer nights, there is lots to do this month, and I plan on making the most of summer by taking advantage of all the amazing things that are happening in the area (Symphony by the Sea anyone!). I hope you take advantage of the all the awesome things that this area has to offer!
July Goals List
Personal Goals
Spend some quality time with my kiddos since they're leaving to go be with their dad for the summer in a week.
Visit the newly renovated Chrysler Museum (it's been on my list for a while)
Unpack the rest of the boxes (this might be a never ending task!)
Business Goals
Host two free photography workshops: a headshot swap and a couples shootout (more details on these events later 🙂 )
Order new business materials with the new address on them
Get the Studio/Client Area together so that I can start using them (whoot!!!)
Catch up on blogging and be more regular!
So there is my July goals list. What are you going to accomplish this month?!