Virginia Beach is an awesome tourist destination (with something like 3 million visitors each year!), and it's no wonder that this is a popular wedding destination, especially for the locals! Tiffany decided on a green and coral beach wedding theme, and this went especially well with the Holiday Inn Oceanside venue they chose, which had LOTS of green details to compliment their big day!
Time to get into that gorgeous lacy number!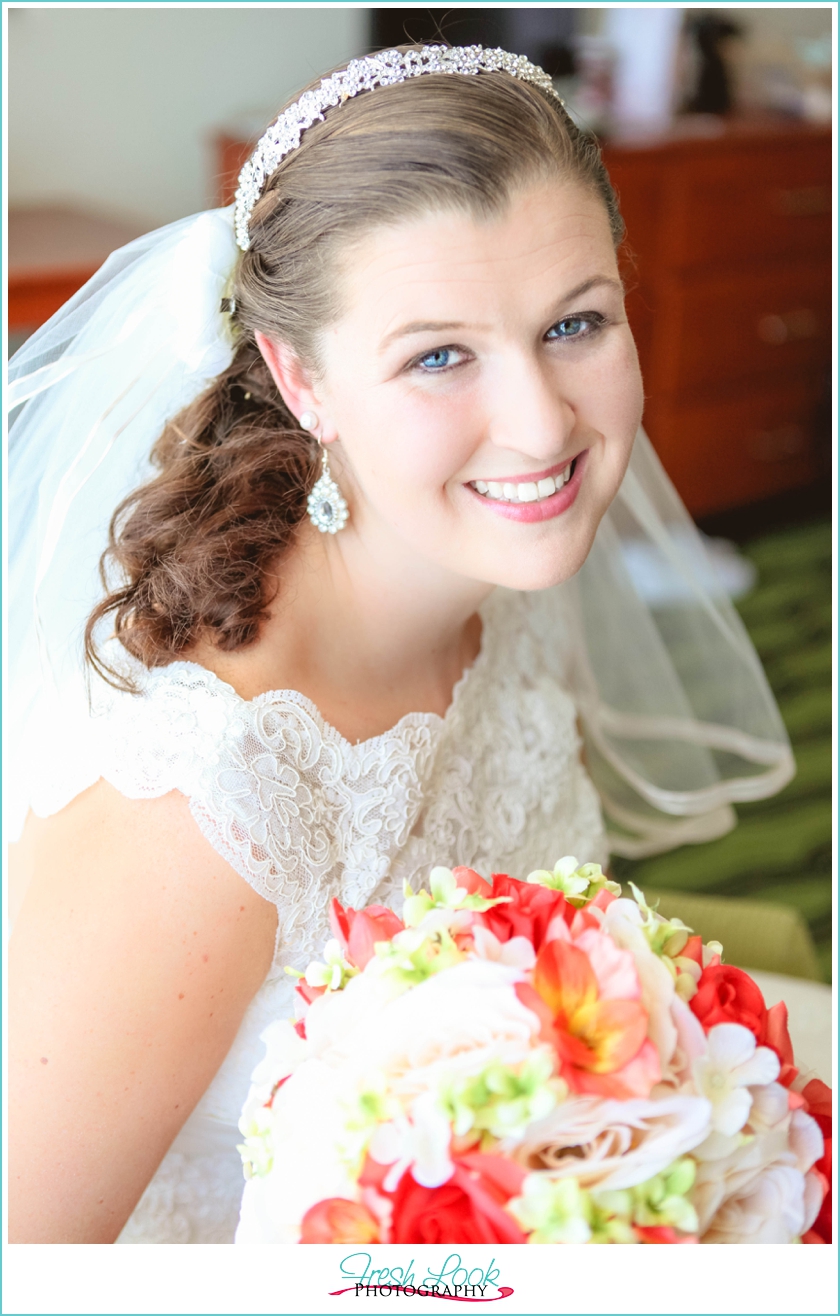 My goodness, look at those amazing peepers!!!
I've known Tiffany almost 15 years, and as she and Tony's relationship has grown and blossomed, there was no doubt in my mind that they were perfect for each other and would one day get married. So when Tony popped the question and Tiffany started to plan her perfect green and coral beach wedding, I was so honored when she asked me to take pictures for them! How exciting was this, that I got to photograph for one of my dearest friends on the most important day of her life?!?! Hooray!!!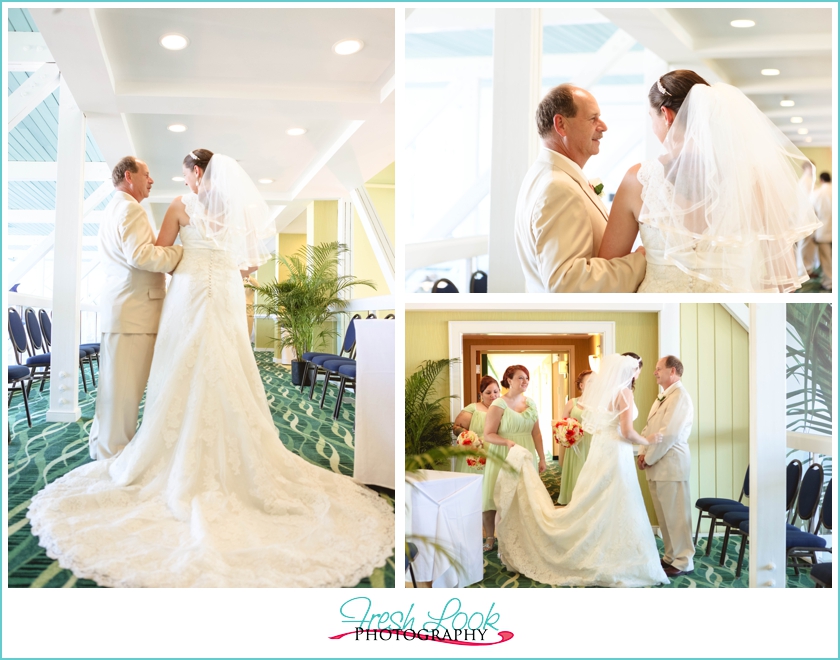 Getting a last minute pep talk from dad!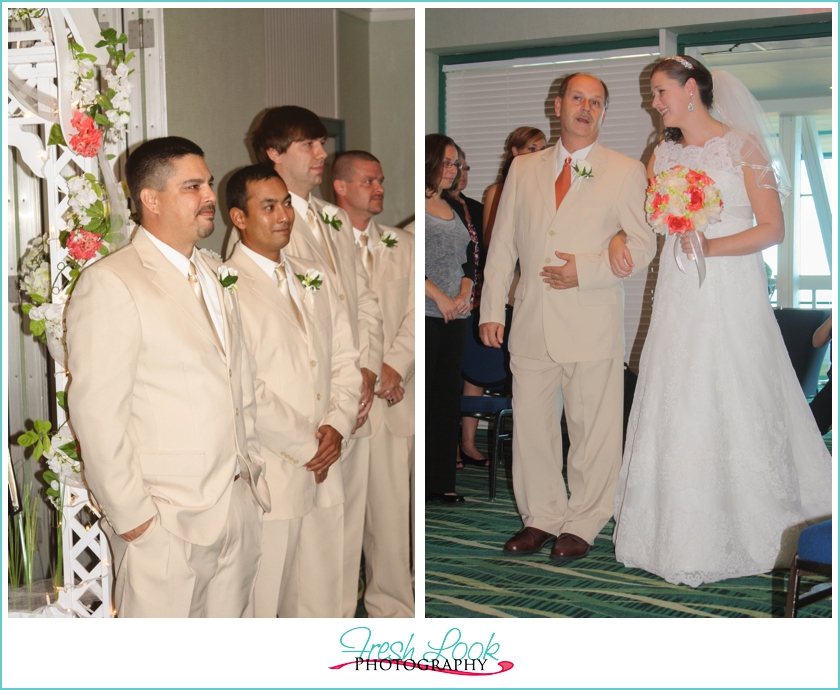 A special reading done during the ceremony by Tony's niece.
This wedding was a long time coming, and after 7 years of being together, family and friends were able to witness Tiffany and Tony pledge their lives together in a beautiful ceremony! Once that was over and everyone got a chance to congratulate the new couple, the bridal party and I headed outside to do some pictures on the boardwalk. For being an October wedding, we had an unseasonably hot day (almost 90 degrees!), but you would never know it from the way these guys rocked out their pictures! The guys even managed to keep the complaining down to a minimum 😉
Then we came to my favorite part of the wedding day – getting to spend time with just the bride and groom and take pictures where they get to focus on just loving each other!!! For me, I think this is the most important part of the wedding day because so much time, effort and planning goes into each wedding (especially this beautiful green and coral beach wedding!), and the bride and groom so often don't get to fully enjoy it. That's why I always make time to take some amazing pictures for them so they'll have something to look back on after all the wedding crazy is over.
Once all the "hard stuff" was out of the way, we all headed inside (thank god for air conditioning!!!), headed into the reception, and partied the night away with all their family and friends. I loved all the little touches that personalized this wedding (like the fishing pole next to Tony's chair on the cake), and the gorgeous beachy touches like sand and seashells scattered throughout the reception!
Such a tender moment between Tony and his daughter during their dance.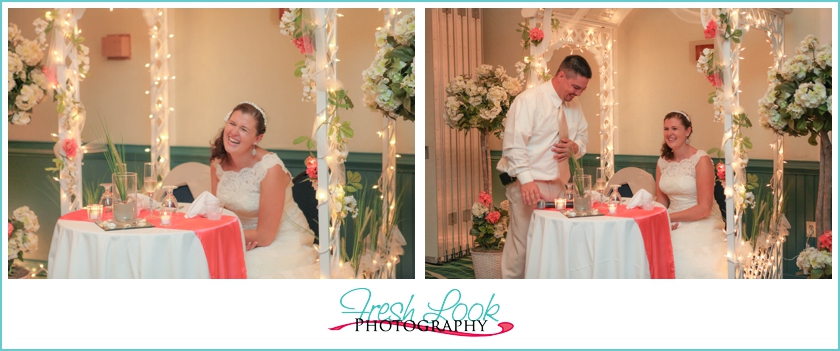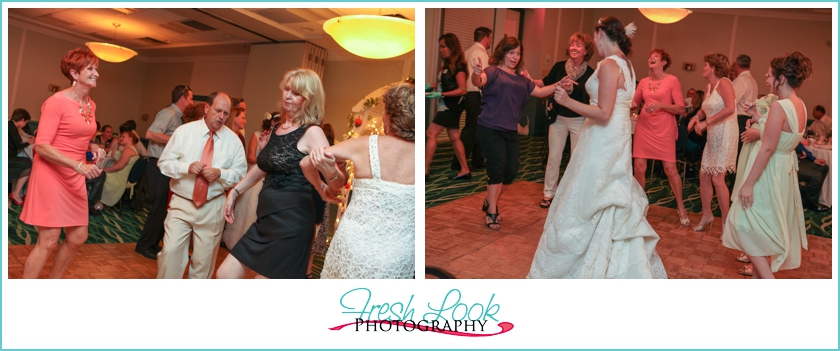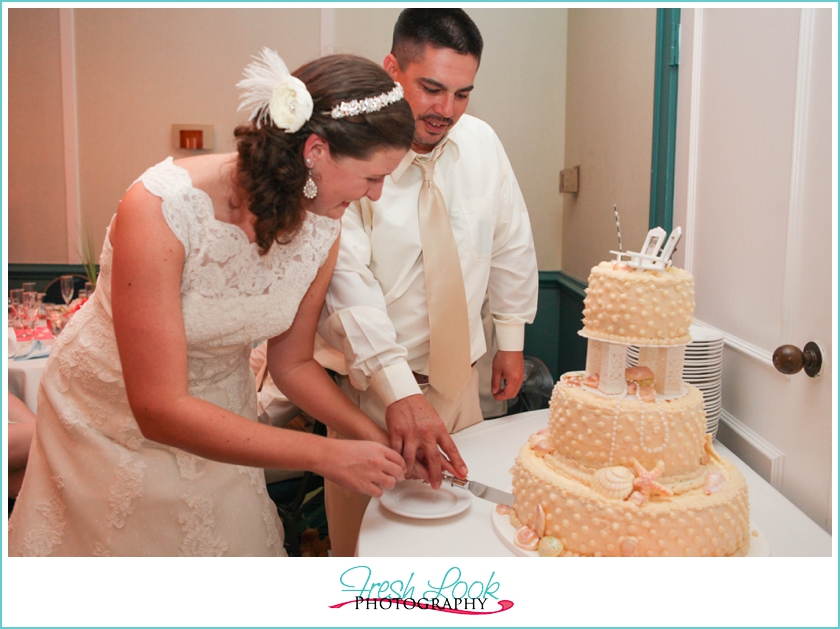 VENDORS: Ceremony & Reception Venue: Holiday Inn Oceanside  |  Bridal Gown: Silk Bridal  |  Bridesmaid Dresses: TB Dress  |  Tuxedo's: Mens USA  |  Wedding Cake: Family Friend