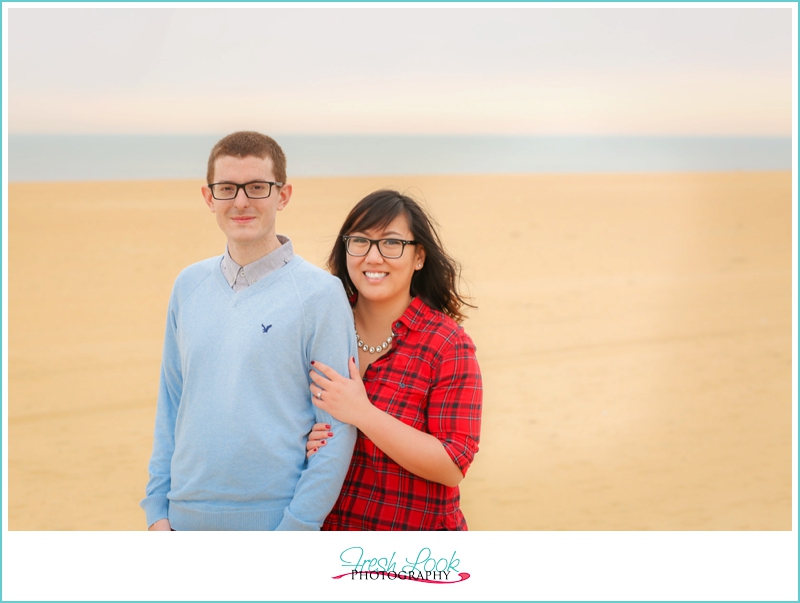 After an especially long winter, there's always something special about the first beach engagement shoot of the year. Getting out to put your toes in the sand and breathe in the salt air… there's nothing quite like it! (even if the temperature is still a bit chilly!) We met Katrina and Chris at a bridal show earlier this year, and were super excited when they chose Fresh Look to take pictures for them!
Beach Engagement Shoot
So these engagement pictures were actually part two for Katrina and Chris! These two lovebirds actually already had one set of engagement pictures taken in Paris (near the Eiffel Tower of all places!) that were gorgeous! It was a more formal session (ask Chris about the pants that were a bit too snug), so Katrina and Chris decided that they wanted to have pictures done that were a bit more them. 
Chris is currently attending school in Hawaii (which is where these two are tying the knot next August) and Katrina is working here in Virginia Beach with LifeNet Health making amazing strides in the engineering field! If I had to come up with one word to describe these two, it would be "adork-able". And I totally mean that with nothing but love!!! Katrina and Chris are so perfectly suited for each other, and just watching and interacting with them, you know that they are in for a lifetime of fun and adventures!