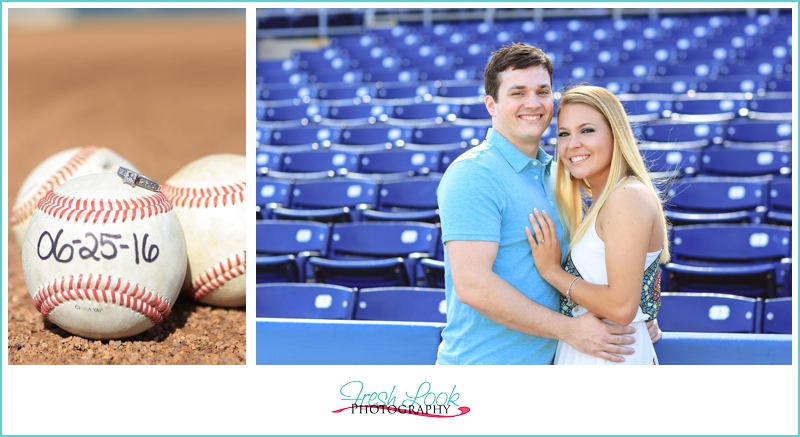 Candice and Jamie are one of those couples who make you just a little bit jealous with their love story. She graduated from Christopher Newport University (playing softball all through college and now coaching the school's team!) and he studied at Lynchburg college (having played baseball all of his life!), so it was only natural that when I asked what these two lovebirds were passionate about and how we could help tell their story in photos, that we did a baseball engagement shoot!
Baseball Engagement Shoot
There were a few options for where we could actually go to do Candice and Jamie's photo shoot, but I think we all knew that there was really only one choice: the Norfolk Tides Stadium at Harbor Park!
Since we had to be flexible with when the session took place (working around the baseball games), we finally scheduled to come out the Monday before the season started. It was a beautiful day, nice and sunny, but when Candice called me in a bit of a panic late that morning we started getting nervous about the session.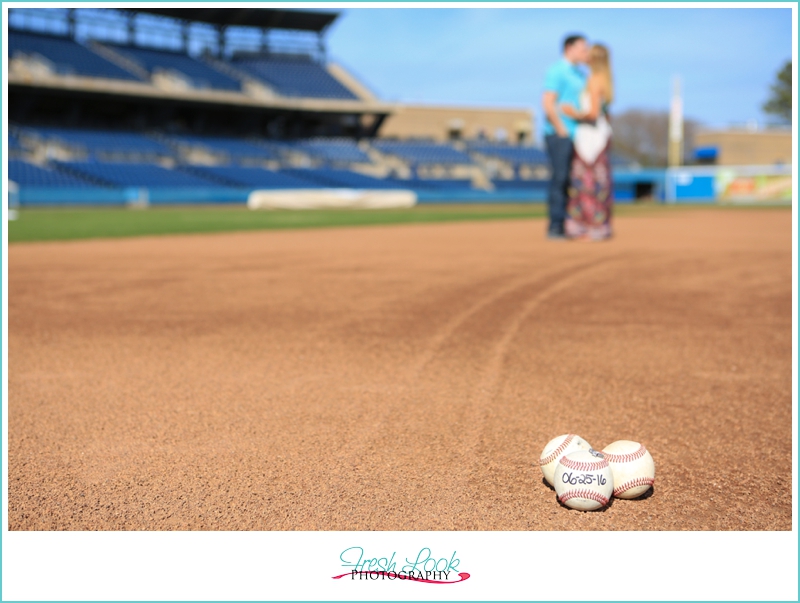 A Wrench in the Plans
The park had called to say that there needed to be some field maintenance done (because apparently the immaculate fields weren't quite immaculate enough!), so they said that we couldn't be on the field… And the whole reason Candice and Jamie chose to have a baseball engagement shoot was so they could represent something that had been a huge part of their lives. Now I don't know about you, but part of the draw of going to a pro-baseball field would be so that you can get out on the field!
Luckily for us, the stadium was more than willing to work with us, and our liaison even let us jump on the field for a few quick pictures (as long as we didn't step on the green turf 😉 ), and I have to say that this was one of the cutest engagement sessions I've had the pleasure of doing in a while!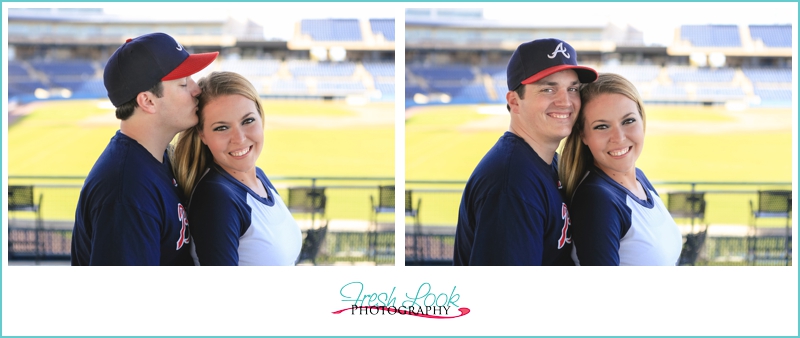 Candice and Jamie, thank you for trusting us to capture your memories! I had such an amazing time with you lovelies, and I know that we are gonna have so much fun when we come to photograph at your wedding next year (whoot whoot!).