Here in Virginia Beach we're braving through the snow-pocalypse (the city pretty much shut down for 7 inches of snow), and that means that not a whole lot is open and more people have off of work. Whether you're a mom with a camera, hobbyist or pro-tog, this gorgeous white landscape gives us tons of new photographic opportunities to play with! Here are 5 pictures to take in the snow next time you're out in nature (and you all know how I feel about nature 😉 ).
5 Pictures to Take in the Snow
1) Let It Snow
Get out there while the snow is still falling to snap a few pictures – I promise your camera will be fine outside in the elements for a few minutes! There is something super magical about the peace and silence that comes with being outside in a snowstorm, plus it can look super romantic to do pictures in the snow (hello cute couples!).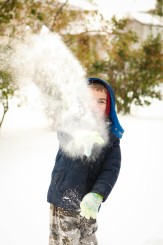 2) Winter Action
Sledding, snowball fights, snow angels and general snowy shenanigans all make for some awesome action shots! If you're shooting in Manual mode, make sure to have a higher shutter speed to freeze that motion (no pun intended!), and if you're camera is in Automatic, go ahead and pop it into Action or Sports mode!
3) Do you Wanna Build a Snowman
It's not really a snow day with the ones you love until you've rolled up those snowballs, grabbed a carrot from the fridge, and built a snowman! But don't let your creativity stop at snowmen, make a snow fort, dig out tunnels and decorate the snow(hello snow paint!).
4)It's all In the Details
Capture winter's patterns, textures and colors! Since the winter landscape is pretty flat color-wise (lots of white!), try to look for contrast and color in your images. Shooting bright colors against a white background makes for vivid winter photos that really pop! You can set up a still life outdoors (no one said it had to be real to be pretty!), get macro shots of snowflakes, or take close up pictures of pinecones, leaves, etc covered in snow.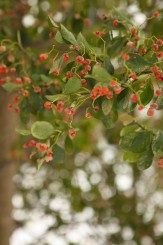 5) Sweet Little Shrimpies
Whether you have little kiddos running around, four-legged children, or even a grown up child (we call those husbands 😉 ), make sure to get out there and capture them out there enjoying the experience! From getting dressed in all those layers, to trudging outside and seeing the snow for the very first time… kids and snow are a magical combination! Real life makes real smiles, so don't worry about forcing that perfect moment, it'll come all on it's own and you will LOVE the resulting images because they are real.