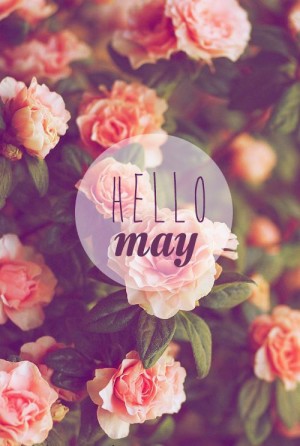 Oh my goodness, looks like it's time to welcome May – and figure out where the heck this year is going!
Here are some cool things that we can look forward to in May:
Mothers Day (May 10th, make sure to get mom a present!)
National Bike Month
National Military Appreciation Month
Drinking Water Month (and I think this is something we can all stand to do more of!)
Cinco de Mayo – who's up to go get some margaritas?!
Welcome May!

Personal Goals:
Make time to be outside and soak up some Vitamin D
I absolutely NEED to make some ribbon wands!
Start picking up lighter clothes for the trip to Spain next month (eek, next month!!!)
Business Goals:
Rock out some amazing weddings this month (get ready for some gorgeousness!)
Set up new blogging schedule, Monday – Thursday
Make plans for the free Bridal workshop I'm teaching in June
What Are Your Goals?!
We can all welcome May with open arms, but with the year officially being a third of the way over, what are YOU going to do with your time and energy? I'm a big believer in writing your goals and posting them where you can see them so that you are held accountable!