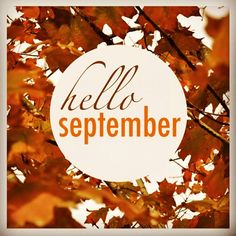 Today's September goals list got put behind by a day because yesterday was back to school for my sweet little shrimpies (which was crazy in itself!), but I'm ready to get rockin and rolling, lets bring on the month of September and all that it holds 😀
Between a ton of weddings, helping with homework, fall mini sessions (they're gonna be so cute!) and welcoming cooler weather… this is gonna be a busy month!
Notables for September
National Honey Month
National Classical Music Month
Hispanic Heritage Month
Happy Cat Month (I know a few cat moms who will be all over this one 😉 )
National Grandparents Day – September 7
Fall Begins – September 22
September Goals List
Personal Goals
Get into a good school routine (right from the start!)
Eat more produce, especially with all the fall goodness about to happen
Visit an apple orchard – I remember doing this as a kid and LOVING it!
Plan some freezer meals – especially awesome for those nights when I have to teach at the museum!
Business Goals
Keep blogging weddings (one a week)
Reach out to local businesses about working together (I've already got one in mind)
Pin all my photo's to Pinterest (the never ending task!)
Execute the awesomeness that will beFall Mini sessions – more on that in tomorrow's blog!