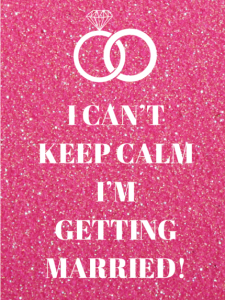 Wow… here we are, November 2nd, a month that I never thought would get here! November is usually crazy because it heralds the official start of the holiday season (bring on the fun!), but this year November is extra special because it's our wedding month! (eeekkk!!!) As you can imagine, this November monthly goals list is going to be wedding centric, so please bear with me as I try and get through all the craziness before our wedding on the 15th!
Don't get me wrong, up to this point, the wedding hasn't really been that stressful. I did NOT want to be one of those crazy brides who was wedding-centric and that's all she could ever talk about… not that there's anything wrong with that, I just didn't want that to be me. So I tried to do as much as I could prior to this month, and it's worked out pretty well. At this point, I think the only things that still need to be finished are the wedding favors and ribbon wands… I'm sensing a craft night needs to happen soon (and I'm not above bribing my friends with lots of wine 😉 ).
November Monthly Goals List

Personal Goals
Make it to the wedding!!!
For real though, I want to be able to enjoy the wedding and really enjoy our big day!
Finish those stupid ribbon wands – this has been on my to-do list for MONTHS, I need to buckle down and do it!
Get all my Christmas presents bought so I don't have to do it when we get back from our honeymoon!
Business Goals
Mini Sessions – I'm only offering 6 mini session spots this year, so be sure to check out the details when they're released later this week!
Schedule a couples photo shoot for when we're in Hawaii (now to find a photographer!)