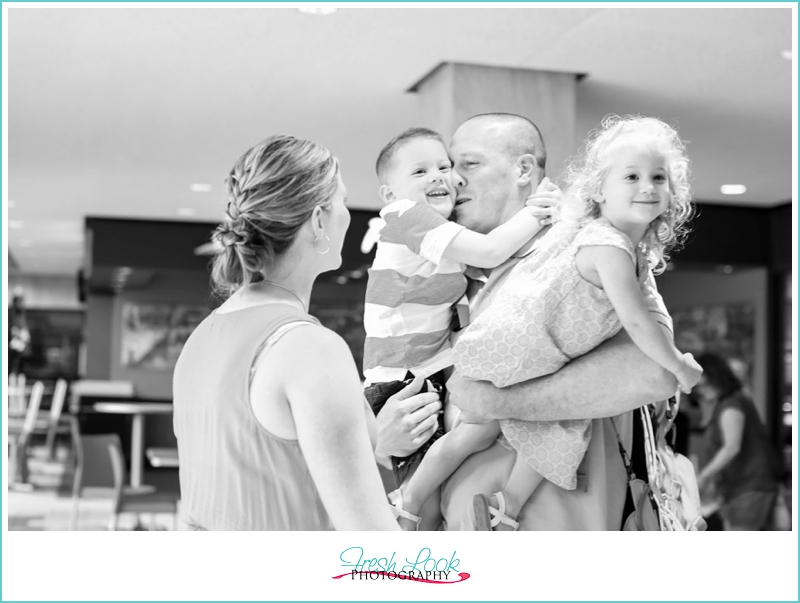 No matter which way you slice it, deployments suck! All the months of being without your other half, having to hold down life and family (and sometimes a job!), all while trying to keep some semblance of sanity can be challenging. But the one thing that helps get military spouses through those long, lonely nights (besides the copious amounts of wine!), is the knowledge that eventually he will come home again! For the Carter family, this military airport homecoming was a long time coming, but completely worth the wait!
Military Airport Homecoming
Military homecomings come in all shapes and sizes: throngs of people waiting for big carriers on the pier, or a single family waiting at an airport terminal… but they all have one goal: bring home the other half of their heart and make their families complete!
The Carter kids were so stinkin excited while we were waiting in the airport for daddy to get off the plane! Usually kids have a lot of energy, but you could tell that these two were just over the moon excited to see him! And as they were running around, suddenly Barrett saw his daddy walking out of security and he made a beeline straight for him (practically knocking Ryan down!).
Carter family, I am so happy that you are all together again! It was so awesome getting to spend time with you all and help you welcome your hubby home! Best wishes to you on all the adventures that you have coming your way!