I love personalizing our photo shoots to the couple we are taking pictures for – and when Catherine and Justin first contacted us, they already knew they wanted a donut shop engagement shoot to prep for the big day! And of all the stores we could go to, O'Doodle Doo's Donuts in Suffolk was the winner because when Justin proposed, it was with a box of donuts from their shop (aawww!). Read today's blog to learn about this sweet session and the adorable couple!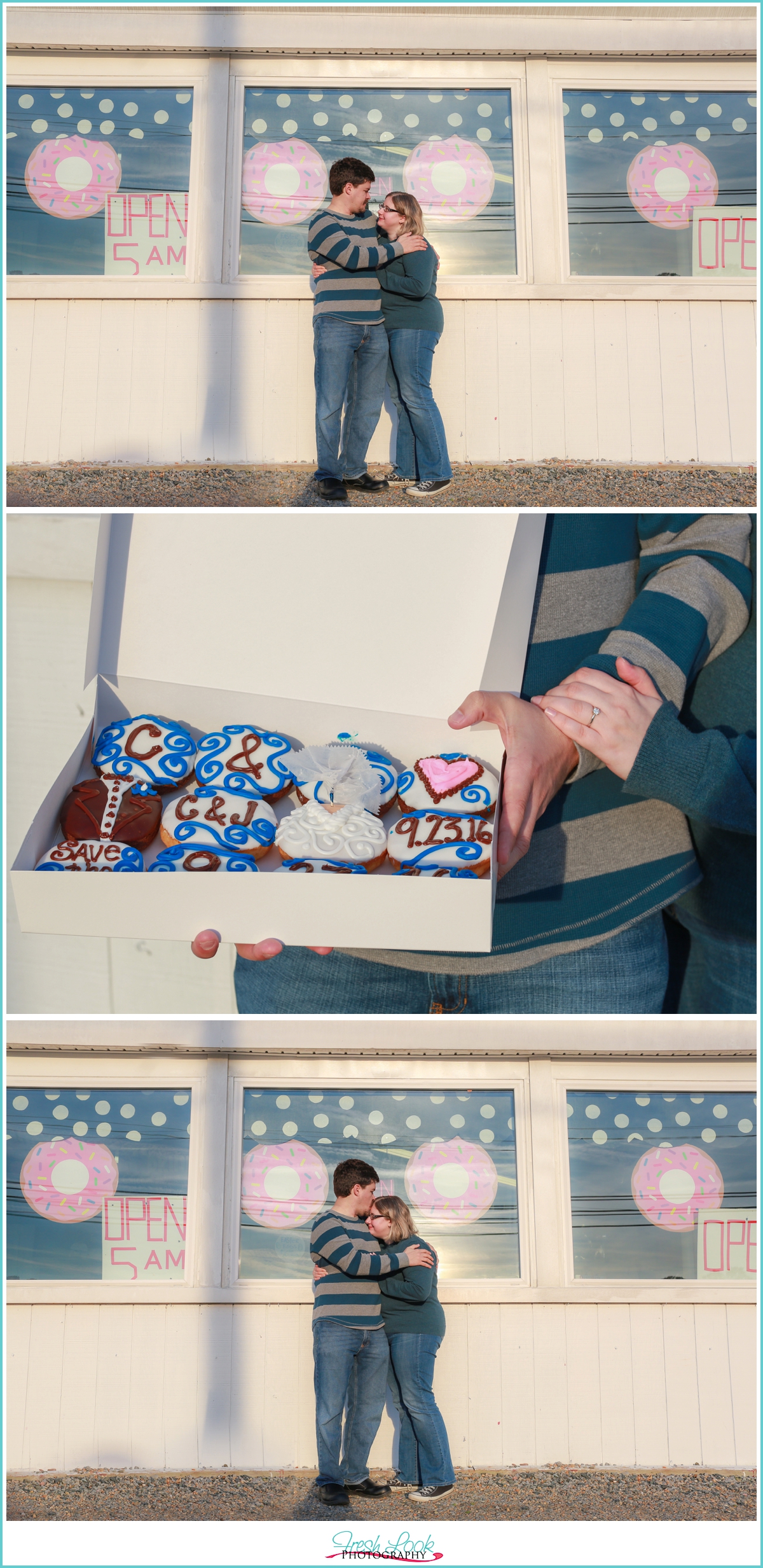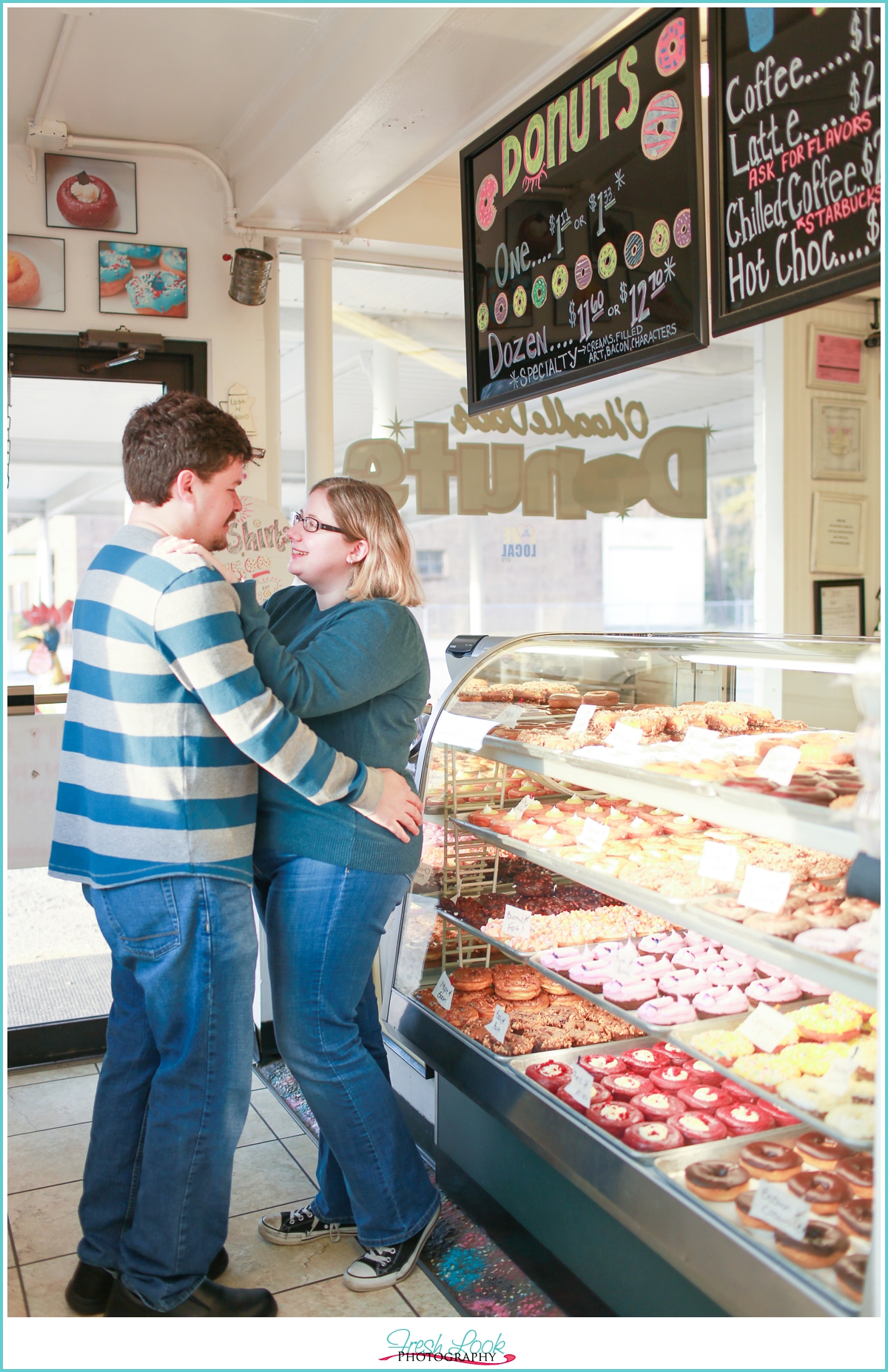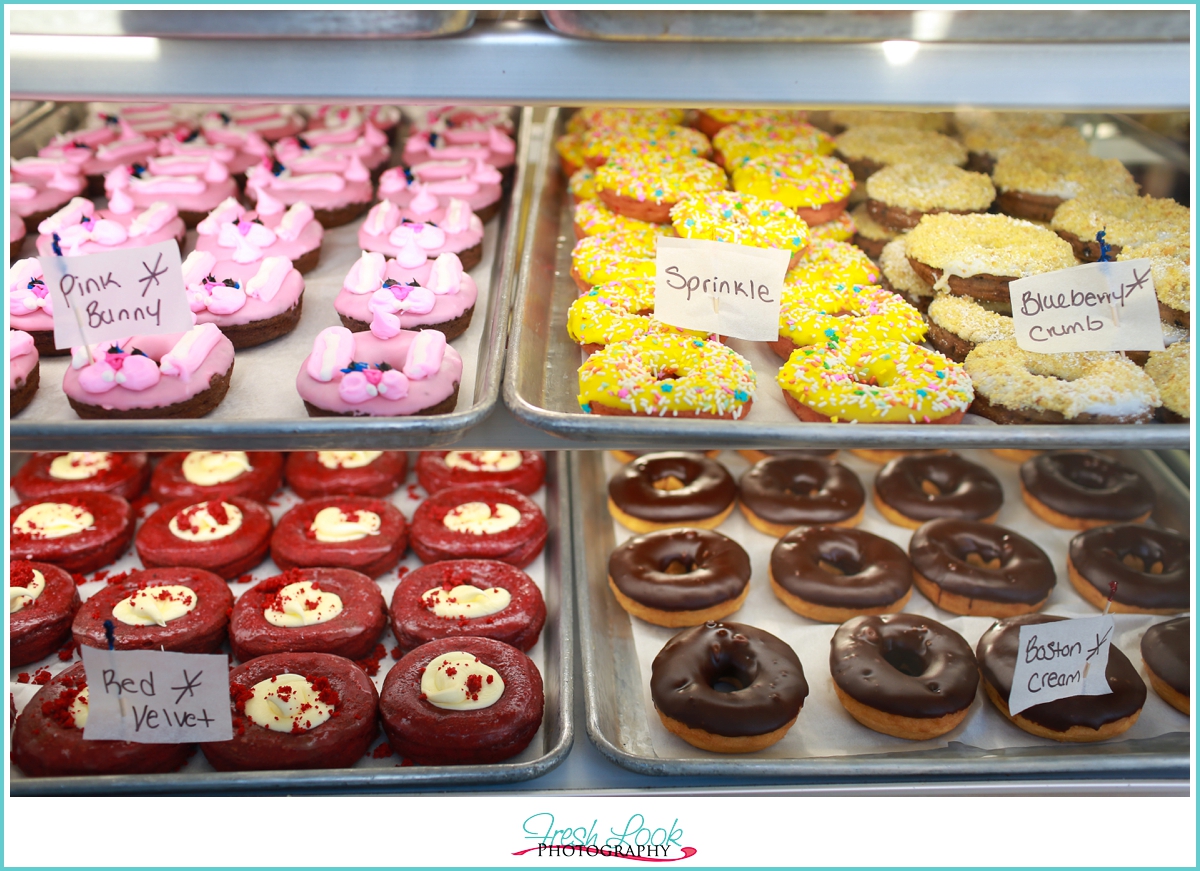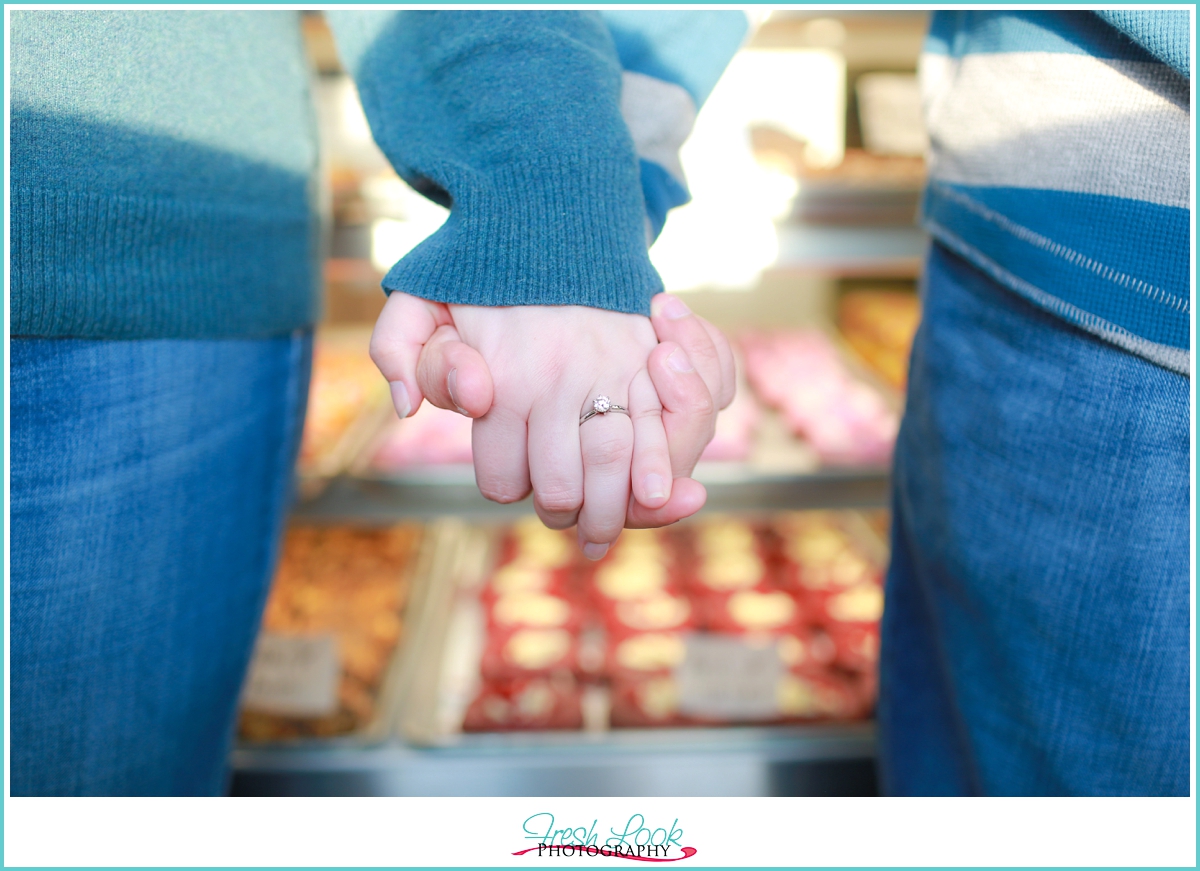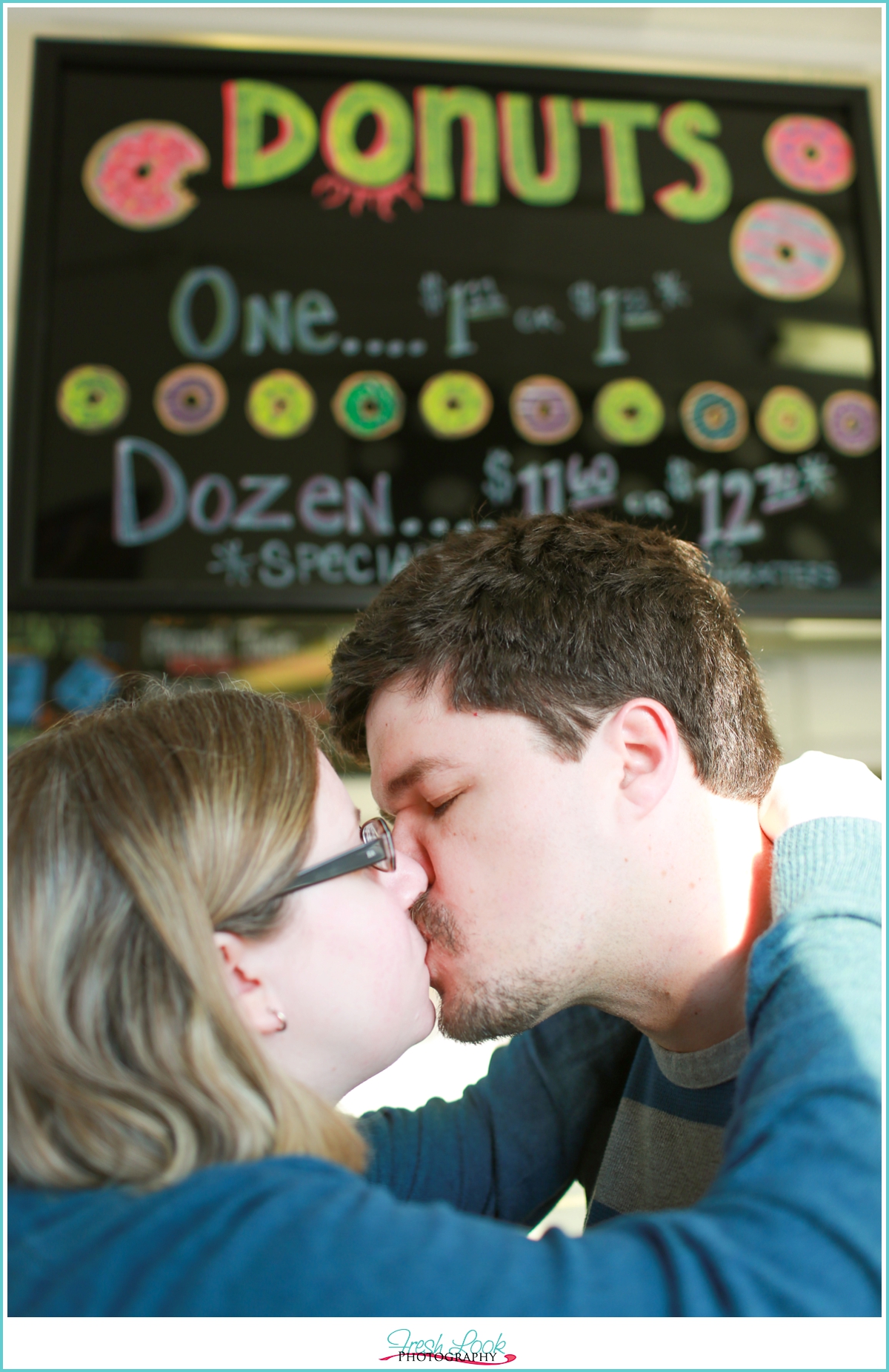 Donut Shop Engagement Shoot
How We Met
We are the epitome of online dating success. Neither one of us had many opportunities to meet potential dates in our day-to-day lives, namely because the I.T. world is predominantly male and indigent defense doesn't exactly provide interactions with suitable mates, so we both turned to the internet. According to OKCupid, "Smigsby85" and "colonialflyer" had a 97% compatibility rate, so Justin sent Catherine a message and the rest is history!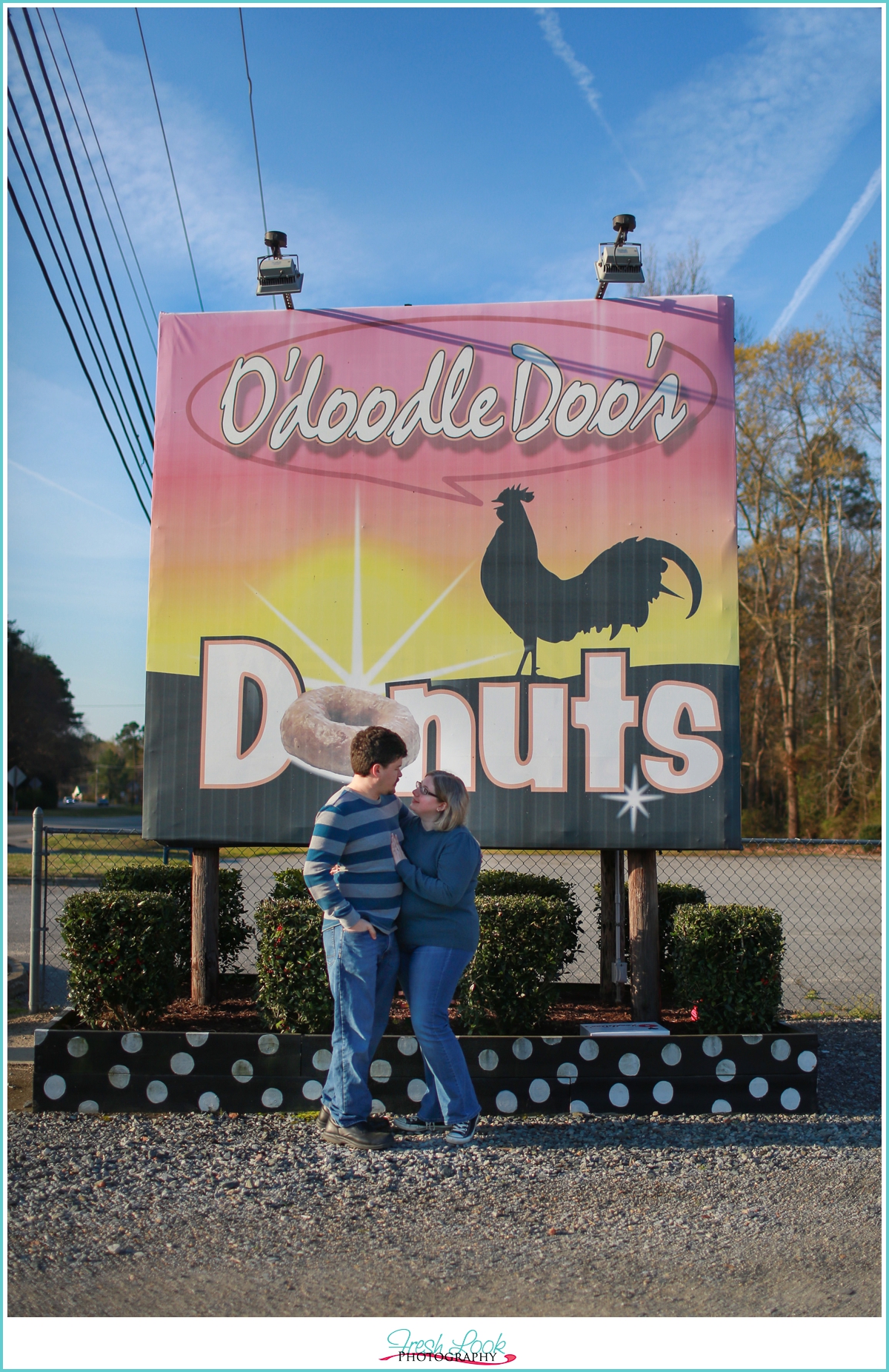 Our First Date
After exchanging messages for almost a week via OKCupid, we agreed to meet in person for dinner. Justin first suggested sushi . . . which Catherine doesn't like. Then Justin suggested Indian food . . . which gives Catherine migraines. So then Catherine tried to tell Justin that she really isn't that much of a picky eater and suggested Italian because everyone likes Italian.
On October 23, 2014, we met for dinner at Azzurri Italian Restaurant in Newport News, VA. Justin was worried because he hadn't planned anything else to do after dinner, but the breadsticks, deep dish Hawaiian pizza, and conversation lasted until they were putting chairs on tables and kicking their last two customers out to close.
Justin walked Catherine to her car and she finally agreed to give him her phone number.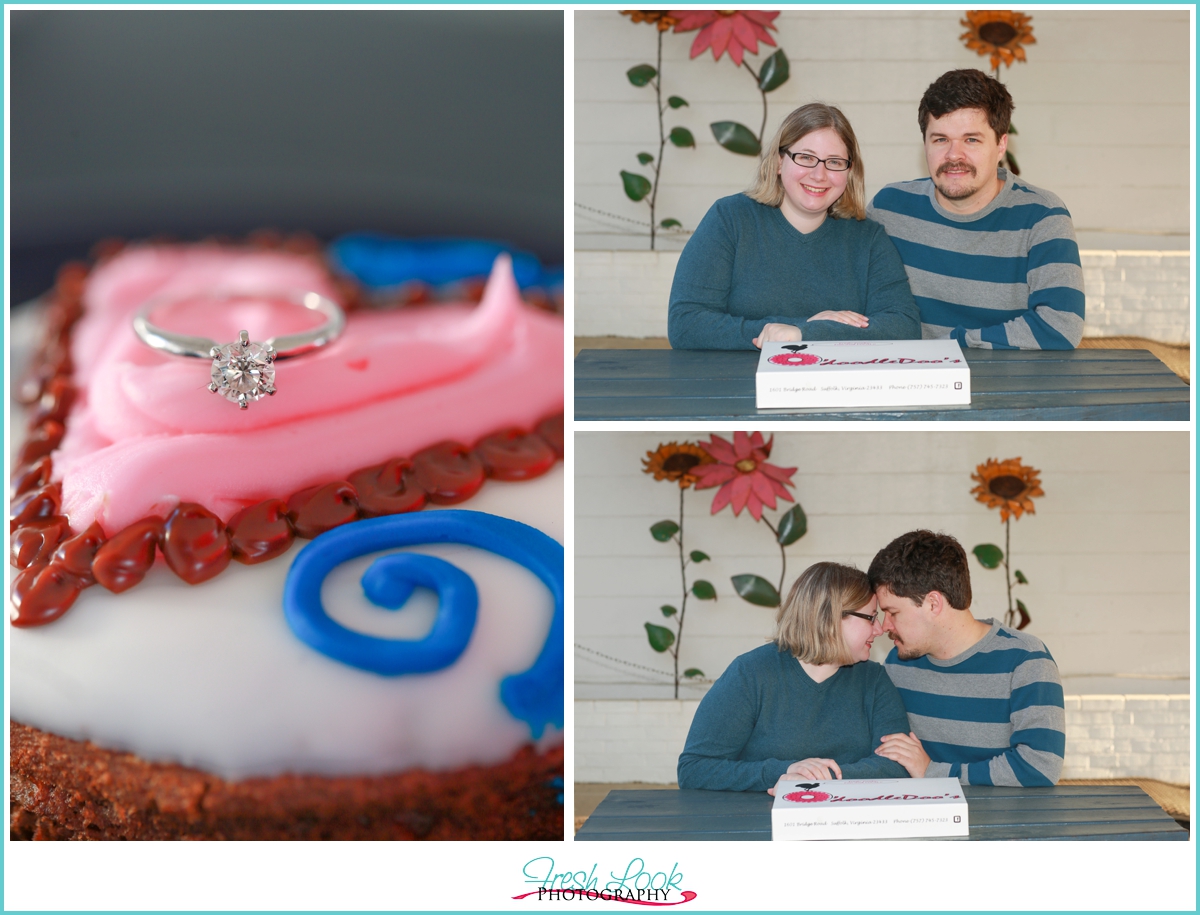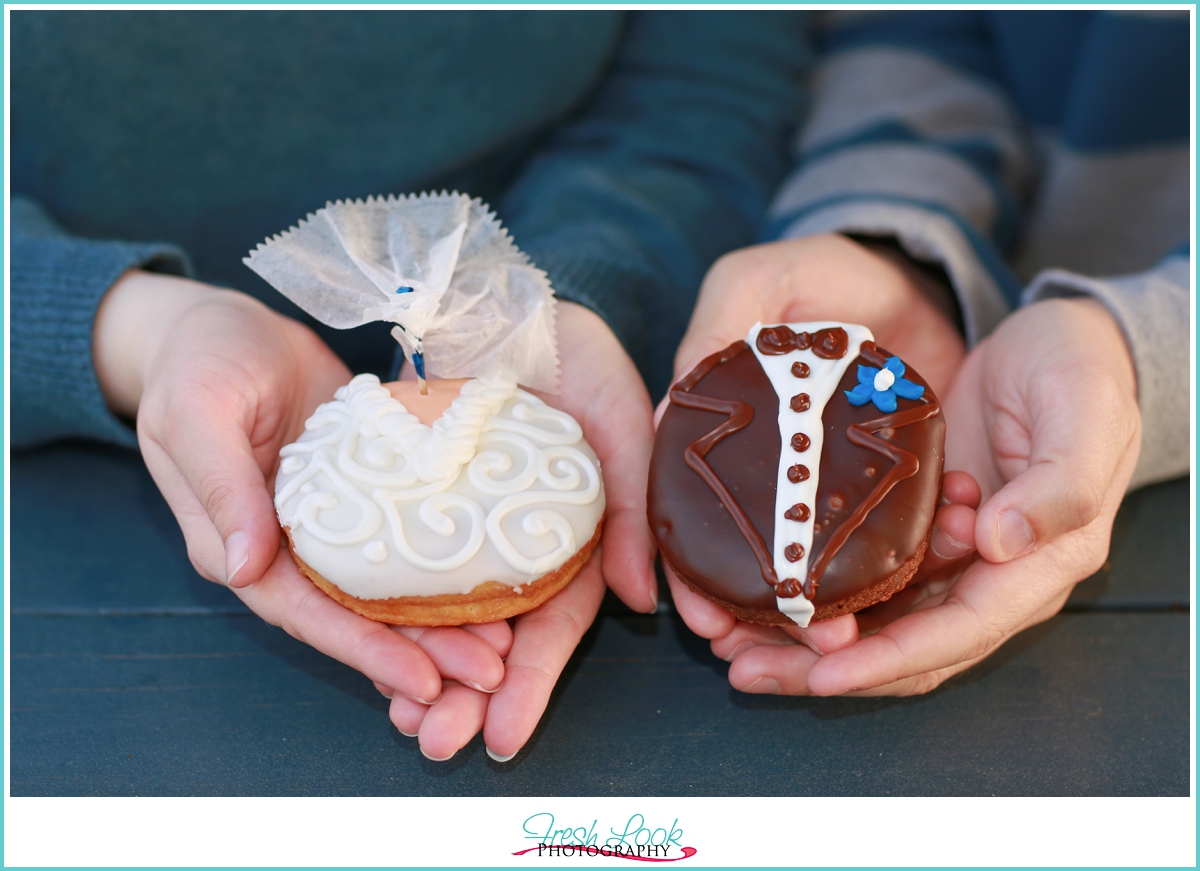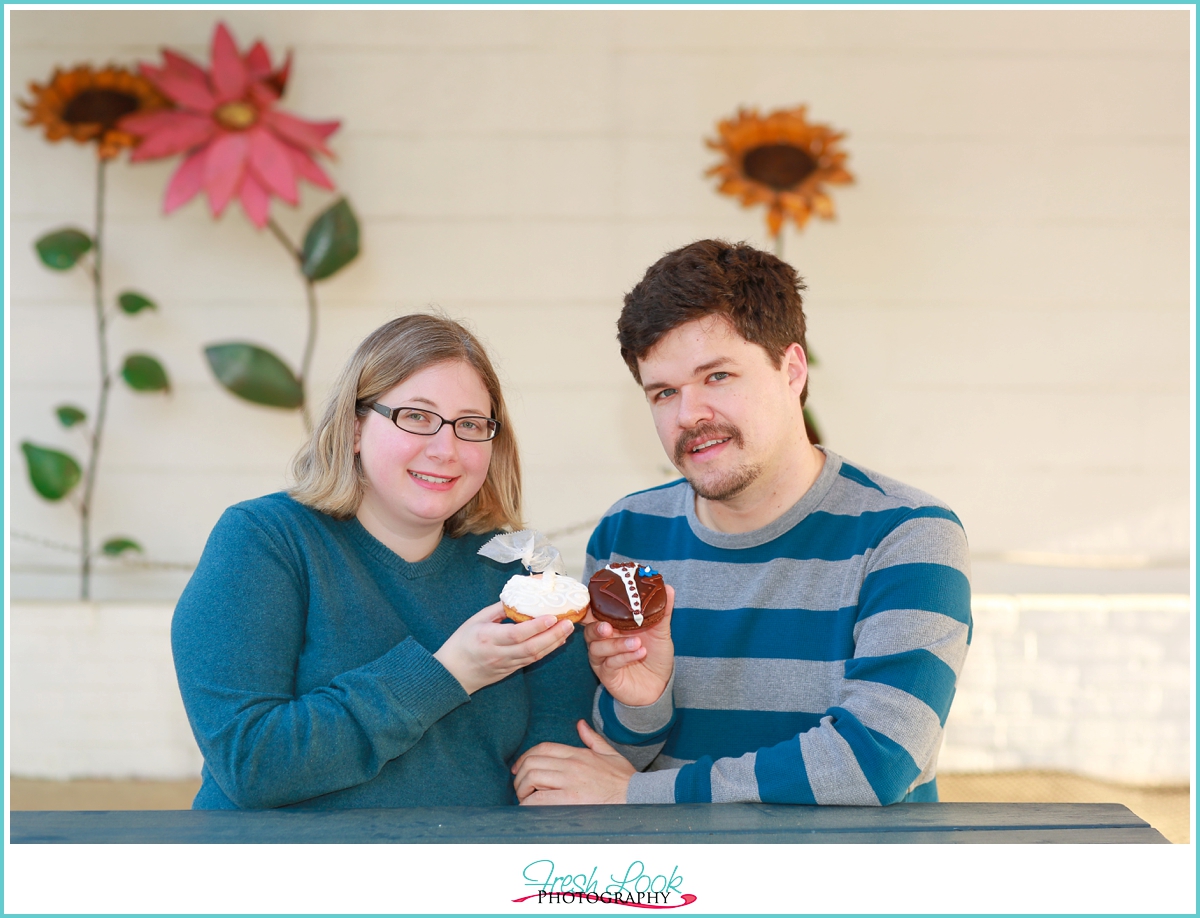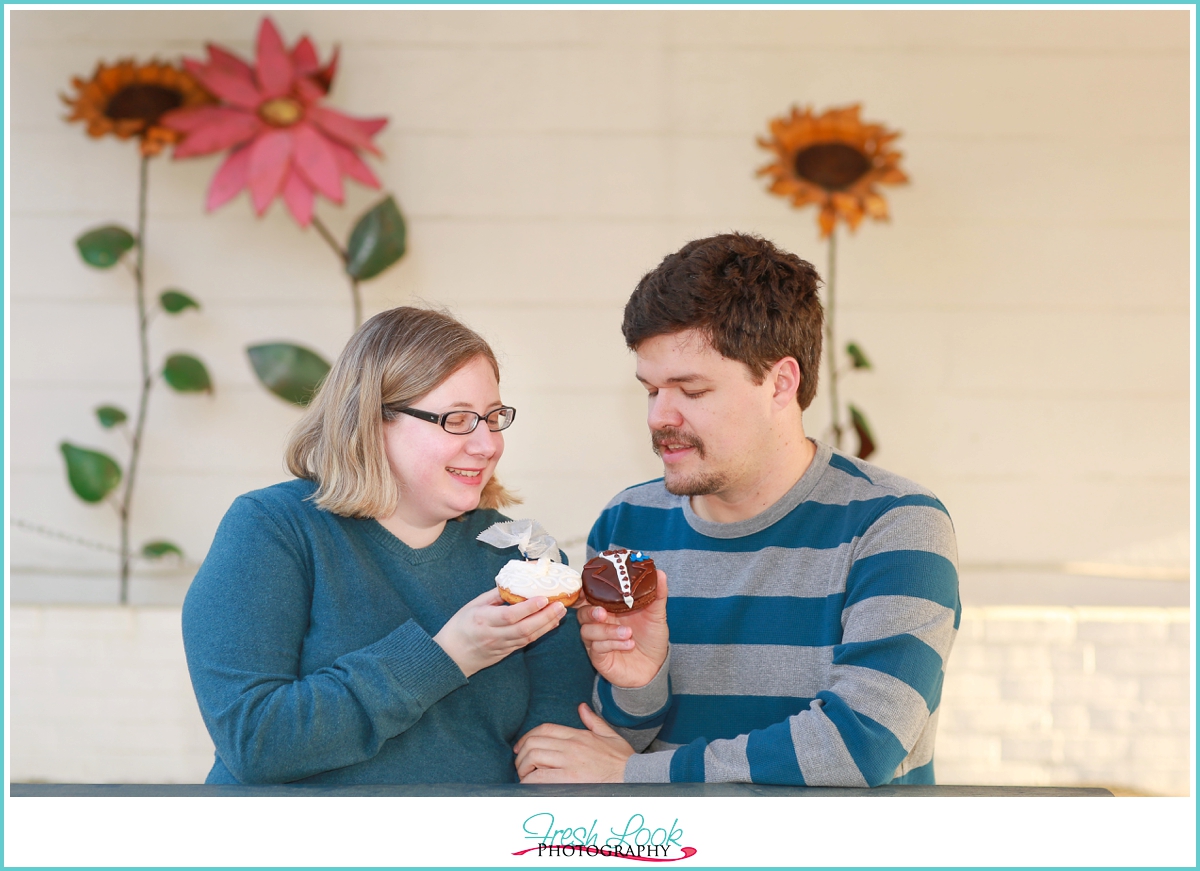 How He Proposed
We had been talking about getting married for several months, but Justin kept telling Catherine that he couldn't propose until he found a hippo. (For those that don't know, Catherine loves hippos because they are the unofficial mascot of her alma mater, George Washington University).
One of our favorite things to do on the weekends is to go get O'doodleDoo's Donuts in Suffolk, VA. On Saturday, August 22, 2015, Justin surprised Catherine by bringing a box of donuts to her instead. He told her to look at the ones he picked out and she opened the box to find the following message in icing on the donuts: "Catherine, when I'm with you I feel lucky, happy, loved, great! Will you marry me?" And the last donut was a hippo. Justin pulled the ring out of his pocket and Catherine said yes.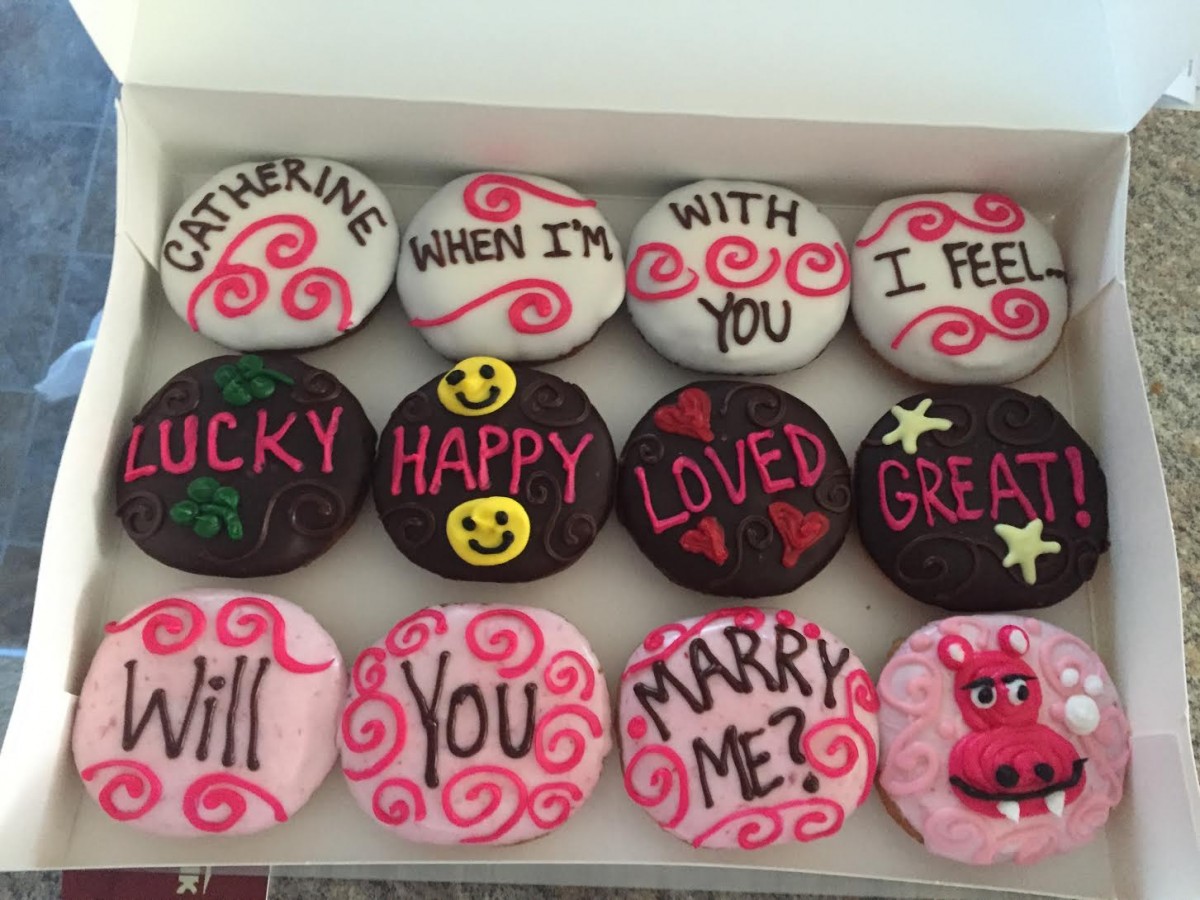 As far as when I knew he was the one, we talked about it and we both had the same answer: Thanksgiving 2014.  Even though we had only known each other for a month, that's when we both knew for sure.  Justin had flown to Chicago to spend Thanksgiving with his sister and her family, while I went up to Richmond to spend it with my family. Both of us spent the whole time texting and couldn't wait to get back to each other.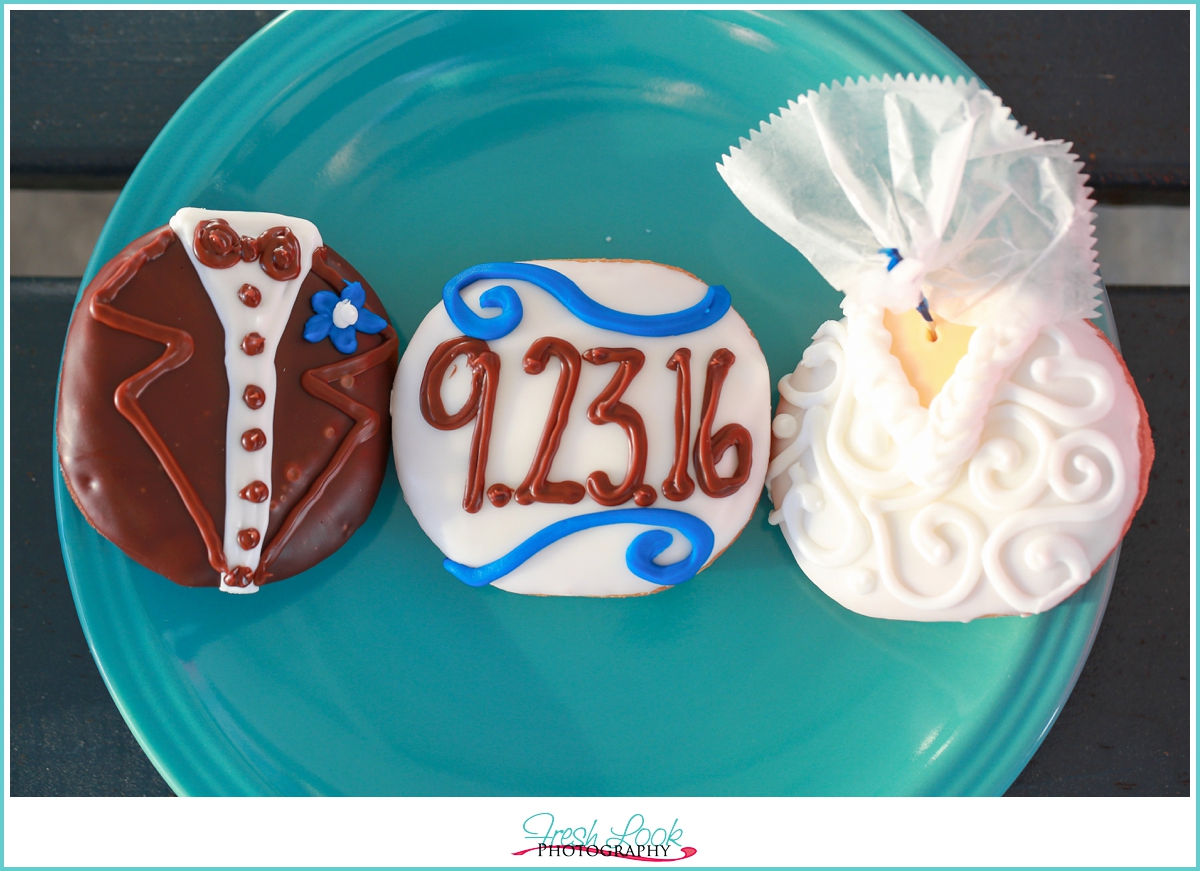 Could there be a sweeter way to announce your wedding date than with donuts?!
We enjoy going to O'DoodleDoo's (obviously), indulging in table side guacamole at our local Mexican restaurant, and going to see touring theatrical performances at local venues like the Ferguson Center and Chrysler Hall.  In fact, we recently splurged on season tickets for the Broadway in Norfolk series for 2016-2017.
In keeping with the donut theme, a fun fact about us is that despite our love of donuts, neither one of us drinks coffee.
We are looking forward to our wedding, our Disneymoon, and hope to add a fuzzy canine member to our family this winter.