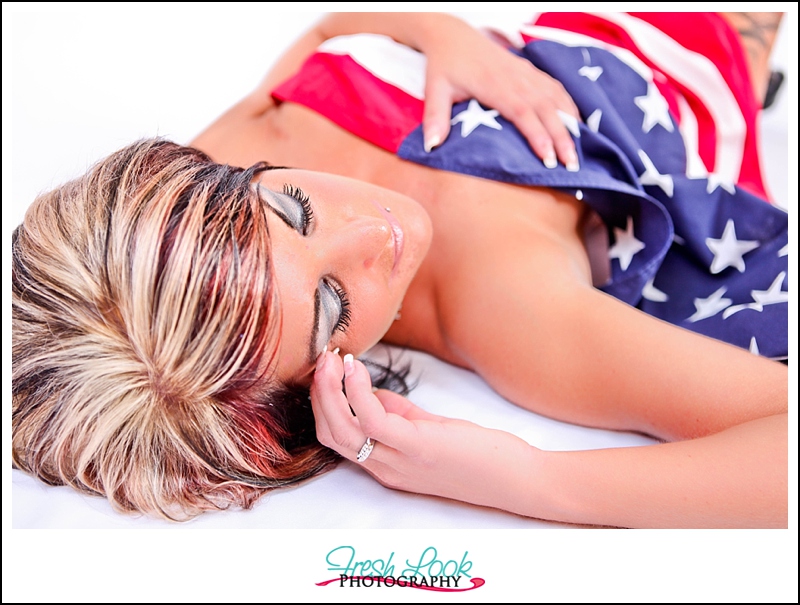 Whether you decide to remain covered at all times or are brave enough to end up baring it all, doing a boudoir photo session can be an amazing confidence booster for yourself or a steamy gift for a loved one! According to the Wedding Photography Directory, boudoir sessions are "tasteful photos for women of all shapes and sizes that hint at sexiness. Every person has their own idea of what sexy is as well as what they are comfortable with. These sessions are cute, fun, sexy, flirty and even a bit sensual all the while maintaining your comfort level."
Come prepared to be pampered! Professional hairstylists and make-up artists are included in your package to style your tresses and color you up! Feel free to bring up to 5 of your sexiest outfits to be photographed in, and come away with a newfound confidence in yourself!
Lets face it, a boudoir session isn't something you do everyday. So here are some of the common questions associated with this kind of shoot:
Who will be present:
Me! Judith Chauvette. I encourage you to bring a friend with you to make you feel more at ease during the session, but it's not required. As your photographer, it's my job to make you look and feel as gorgeous as possible!
Baring It All
I want you to be comfortable, so feel free to show as much (or as little) as you want to.
Remember that being sexy doesn't necessarily mean baring it all. Often it can be more sensual to show less and leave a little more to the imagination.
What should I bring to my boudoir photo session?
Fresh Look Photography suggests that you bring a few of your favorite lingerie ensembles. A sleek corset or flirty babydoll are popular choices, as well as the ever classic boyshorts, stilettos, and a knockout pushup bra. So this is a great excuse to go shopping for a new outfit! Treat yourself to some lingerie, shoes and mani-pedi. It is worth it!
What should I wear for my boudoir shoot?
The first thing that likely comes to mind when you think "boudoir" is sexy, risque, and provocative: corsets, fishnet stockings, vinyl…you get the picture. However, I absolutely recommend you wear what YOU feel comfortable in – everyone's idea of what constitutes sexy is different. Also keep in mind that what a guy finds sexy may be completely different from your ideas – consider his white button-up, a sports jersey, well-worn jeans or jean shorts, or just a sharp jacket by itself. Think outside the box! And always remember that sheer stockings and a pair of sexy heels should be the finishing touches on any outfit!
I don't want my photos to end up online – will these be posted on your website?
I will NEVER use your photos in promotional materials without your explicit permission beforehand. 
What if I want to come in with a friend?
Perfect! If you have friends that are interested in doing a boudoir session, you should consider hosting a boudoir party with Fresh Look Photography! You'll get free bonuses with your package, and everyone will enjoy special party discounts. If you just want a friend present to help you feel more comfortable, that's fine as well. Whatever makes you feel the best on your special day!
Should I Eat Before My Session?
Try to eat a light meal before the shoot. We don't want your stomach to growl while you're shooting, but eating a big meal is no good in photos either. You're welcome to bring snacks for during the session, as well as drinks (alcoholic or not :).
My job as a boudoir photographer is to help you feel comfortable, silly and unguarded. Only then can the sexy bubble out! So if you have questions or need posing help, please don't hesitate to let me know!